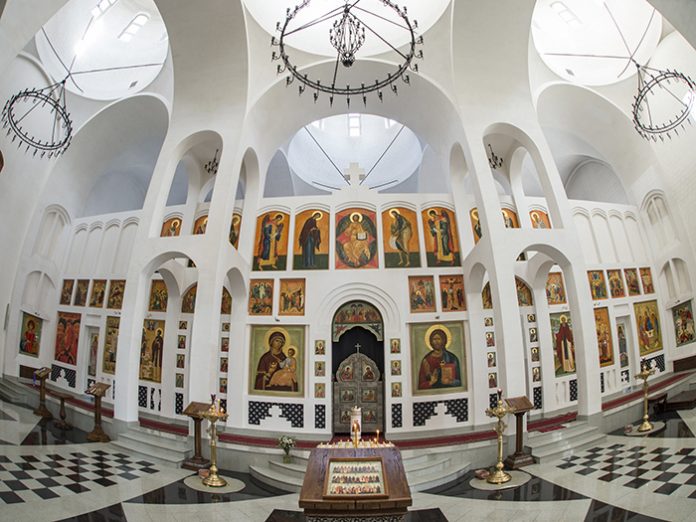 Recent years have seen the Russian Orthodox church expand its programme of a church building. At Moscow's Khodynka Field, worshippers at the new Church Of Saint Sergius of Radonezh were distracted by having problems hearing services, but Yamaha's VXL Series slim line array speakers have quickly solved the issue.
Khodynka Field, a few kilometres north-west of Moscow city centre, saw the first Russian flight in 1910 and quickly became the city's first commercial airport. Finally closing to aviation in the early 2000s, since then the site has been redeveloped as housing, offices, sports venues and open spaces for Moscow's expanding population.
Located at the end of one of the former airport runways, the Church Of Saint Sergius of Radonezh was opened in 2017 to honour one of the Russian Orthodox Church's most highly venerated saints, as well as the many airmen and women who had flown from Khodynka Field.
Russian Orthodox services are conducted entirely in melodic chants or singing, to create a sense of calmness and to express the true nature and purpose of the words. The church originally had no sound reinforcement system, but it quickly became obvious that churchgoers were clustering in the centre to hear services properly, distracting them from their worship.
The monks who run the church looked for a solution to spread the sound more evenly throughout the church and Roman Belyaev, of Moscow-based AV specialists iProjector, suggested four Yamaha VXL1W-16 slimline array speakers. Three PA2120 amplifiers were chosen to power the VXLs, with the system controlled by an MTX3 matrix processor.
The high-quality sound reproduction and wide dispersion characteristics of the VXL1s meant that worshippers would be able to be anywhere in the church and hear services clearly. Just as importantly, the slimline profile meant they would be virtually invisible, ensuring there was no visual impact on the architecture and icons, which are used in Russian Orthodoxy to bring the church's worshippers into the presence of those who are in heaven.
Services can range from one priest up to ten people and a children's choir and, as well as the VXL1W-16s greatly improving the sound coverage, the MTX3's Dan Dugan automixing means every service can take place without any need to worry about mixing the sound, to ensure everything is clearly heard.
"The system delivers a very natural sound without compromising the church's visual appeal, helping worshippers to concentrate solely on the services, without any distractions," said Roman.