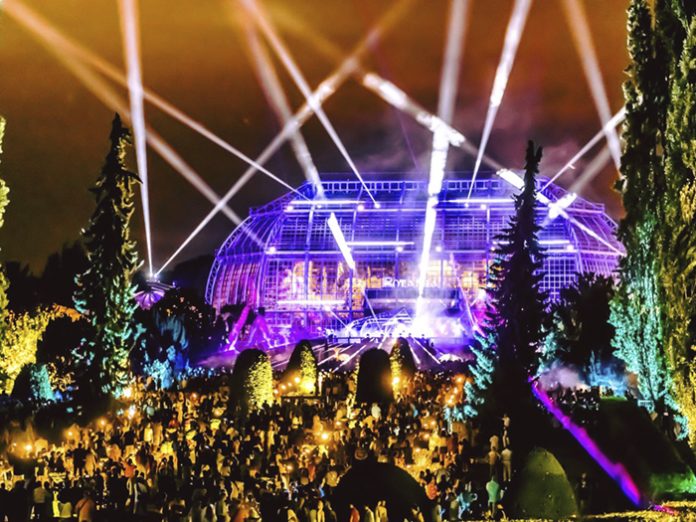 The Great Tropical House lives up to its name. Completed in 1907 it remains one of the largest and most impressive self-supporting greenhouses in the world, housing more than 1,400 exotic plant species. On Friday, July 19, the impressive structure took on another important function when it served as the centre of the Berlin-Dahlem Botanical Garden's Botanische Nacht, an annual one-day summer festival organized by TLT Event AG that features music, magic shows, fantastical tales and non-stop fun in the heart of the German capital.
Glowing like a giant space ship, the massive domed structure captivated the large crowd that turned out for this nighttime event. Outlining the building's architectural features and adding to its stunning appearance were 110 CHAUVET Professional ÉPIX Strip IP fixtures that Denny Arndt featured in his lighting design.
Coordinating the ÉPIX fixtures with five lasers, Denny created sleek and compelling looks on the Great Tropical House that set it apart even from the already colourfully lit festival grounds. Endowing the building with an other-worldly appearance, his design commanded attention as it stirred the imagination.
"I used geometric lines and glittery images on the ÉPIX said Denny. "The brightness and intensity of the ÉPIX Strip IP are wonderful. They give me a structure of light that stands out even against the laser light to create a brilliant display. My concept was to give the building a magical, surreal appearance in keeping with the spirit of Botanische Nacht."
Even the rain that fell on this warm July night couldn't dampen that special spirit. The IP65 rating of the ÉPIX fixtures helped to ensure that they would continue to dazzle regardless of the weather. "The IP rating makes these fixtures very reliable for outdoor events like this," said Denny who used 60 ÉPIX units from his own private stock of fixtures, and had the others supplied by Eventtechnik Südwestfalen.
In an event that glitters with excitement, the reliable EPIX Strip IP fixtures helped the Great Tropical House shine like a crown jewel. "All eyes are on the building during Botanische Nacht, so we want to make it special," said Denny.
On this night, that was exactly what he accomplished.