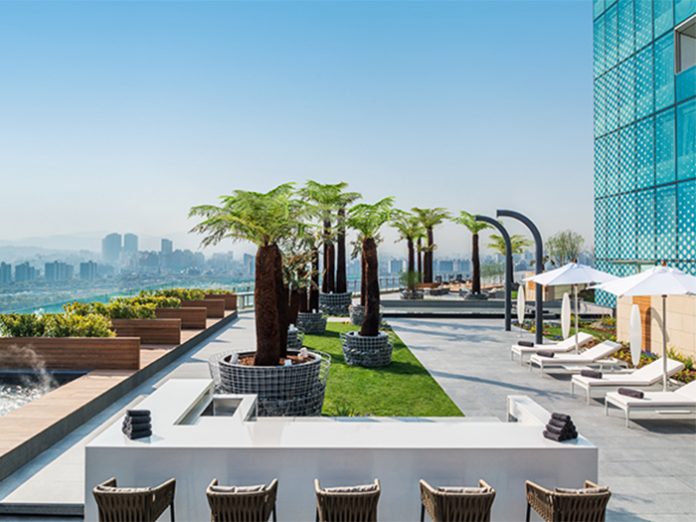 Sitting on the slopes of Achasan Mountain and overlooking the Hangang River, the Walkerhill Hotel & Resort boasts one of the best views of South Korea's capital, Seoul. The management recently returned to its owners, SK Networks, which has made a significant investment in upgrading all three, including the installation of Yamaha audio equipment.
After a period being run by different franchises, SK Networks has chosen to return all three to independent status, with improved facilities. The investment has included new conference facilities at Grand Walkerhill Seoul and new audio systems at Aston House and Vista Walkerhill Seoul. The latter's refurbishment has been designed to achieve – in the words of SK Networks – 'a space where people, nature and the future coexist; creating a lifestyle and cultural experience with an emphasis on providing sustainable luxury'.
SPL Integrated Solutions, Korea, was entrusted with the supply and installation of new AV equipment under the guidance of owner Hwang Jun Ho. He chose Yamaha equipment as a key element of all three venues.
"I was familiar with the existing audio systems at the hotel," he said. "When I was asked to recommend solutions for the upgrades, I suggested Yamaha equipment because I have used and trusted it for many years."
He continued, "It was really important for the quality of the sound to match the sophisticated atmosphere being created at the Vista Walkerhill Seoul and Aston House. In addition, the new conference facility in the Grand Walkerhill Seoul's ballroom needed a sophisticated audio system, because it can be used as one large space or subdivided into up to six separate rooms. This required the audio system to be extremely versatile and able to be configured accordingly."
After demonstrating Yamaha solutions to the hotel's management – and receiving an enthusiastic response – Hwang Jun Ho and his team installed Yamaha ceiling speakers in the public spaces of the Vista Walkerhill Seoul, which blend in tastefully with the contemporary décor. The background music is supplied by a computer-based playback system with sound distributed to the lobby, bar area and VIP lounge, via one the complex's many Yamaha digital mixers.
A similar system in Aston House delivers high quality background music via Yamaha ceiling speakers, with a digital mixer allowing extra inputs for presentations and entertainment.
A more comprehensive system is installed at the Grand Walkerhill Seoul's new conference facility, based on a comprehensive Dante audio network and managed by a Yamaha matrix processor, with Yamaha input/output units, amplifiers and further digital mixers. The system is controlled and monitored discreetly from a hidden control room, which ensures that the audio matches the configuration of the space at all times.
"From a guest and hotel operator's point of view, the AV facilities should be as high quality and as easy to control as possible," said Hwang Jun Ho. "It's my job to design systems, which guarantee the experience expected from such a prominent hotel. The variety and flexibility of the Yamaha product range means that there is always a way to achieve this and I'm very happy to say that SK Networks has been very impressed with the solutions that we have supplied."