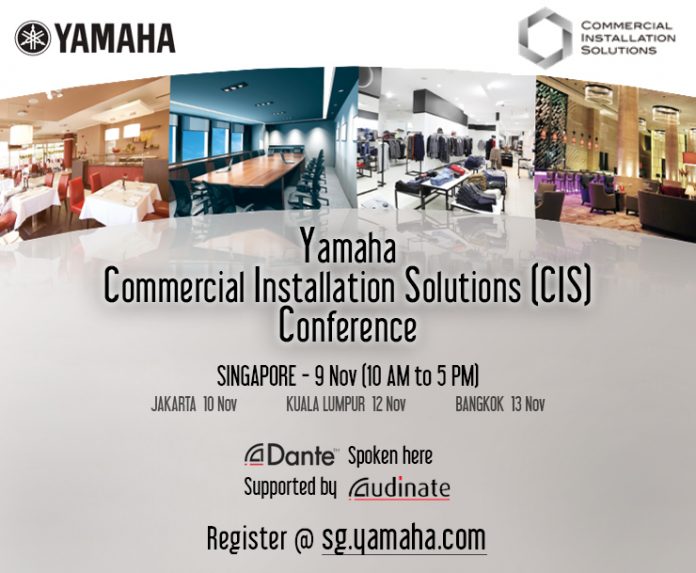 Early November saw Yamaha's ASEAN Pro Audio Business Division and company subsidiaries in the ASEAN region deliver a series of seminars in Singapore, Jakarta, Kuala Lumpur and Bangkok, focusing on audio networking and the launch of the new MRX7-D open architecture signal processor. Closely following Yamaha's Milan Symposium in October, the ASEAN seminars continue an expanding programme of global events to support the company's ever-growing installation product range.
Run in conjunction with Audinate, the ASEAN events featured Andy Cooper and Karl Christmas of Yamaha's Pro Audio Global Technical Marketing Group, alongside Audinate Vice-President of Sales and Marketing John Rechsteiner, Ben Wong, Sales Director at Audinate Asia Pacific and Senior Technical Solutions Engineer Alvin Cheung.
Over 100 installation integrators, live sound and broadcast engineers were present at each session, ranging from seasoned network engineers to those working with audio networks for the first time. A morning presentation of Audinate's product portfolio, including Dante, was followed by Andy's presentation on networked systems using Dante and Karl demonstrating Yamaha's Commercial Installations Solutions (CIS) products. These included the latest processors and the ProVisionaire Touch wireless control app for iPad.
The seamless integration of Dante in CIS products was a key element, demonstrating the many advantages of how even basic networking can have a major beneficial impact on installed audio systems.
"Yamaha is leading the global market in networked audio and we organised these four seminars to satisfy the increasing demand for education and support throughout the ASEAN region," said Motome Tanaka, Assistant General Manager of Yamaha's ASEAN Pro Audio Business Division.
"Yamaha is continually expanding its range of products for the installation market, which will provide progressively greater benefits to systems integrators. Our subsidiaries in the ASEAN region can supply complete solutions through the entire range of Yamaha networking products."
"Yamaha and Audinate specialists can also assist with one-to-one system design, post-sales support and training throughout the world, a level of service that few companies can provide. One of the purposes of these seminars – the first of many ASEAN region training events that we have planned over the next year – is to highlight that support, as well as demonstrating that Yamaha CIS is a reliable, flexible and cost effective solution."
"As the popularity of the CIS products and associated requests for training grow, we are committed to inspiring users with new ideas and possibilities via an additional programme of system design workshops," added Karl.