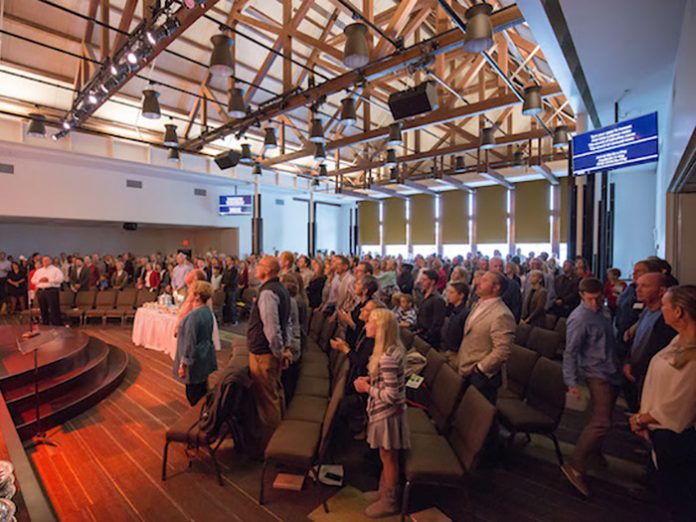 For 17 years, the congregants of Greentree Community Church gathered on Sundays at the North Kirkwood Middle School or other schools in the district. That changed in October 2015, when the congregation celebrated Sunday services for the first time in the brand-new building. The building's design is a modern take on the classic crucifix shape, with transept-like spaces on either side that can be divided into separate rooms for classes and other events, and a configurable sound system featuring Fulcrum Acoustic loudspeakers.
Services and other events at the contemporary Evangelical Presbyterian church feature music ranging from voice, violin, and piano to a full amplified band with drums. The sanctuary, which seats approximately 400, has a flat floor and employs stackable chairs rather than permanent seating, allowing the space to be used for multiple purposes.
The sanctuary's high ceilings and glass rear wall created some acoustical challenges, explained Ryan Knox of Idibri, the Dallas, Texas, firm behind the audio, video, and lighting systems, and the acoustical treatment. "The entire back wall is glass and hard surfaces," said Ryan. "And the beams where the speakers are mounted are about 16 feet above the floor."Although a motorised acoustic shade can be lowered over the windows for privacy and to reduce reflections, "It was very important that we not throw a ton of energy at that back wall," said Project Manager, Brian Turnbull of Palatine, Illinois, systems integrator Amplio Systems, which installed the system.
Ryan addressed the main space's challenges by flying two pairs of Fulcrum Acoustic DX1595 dual 15-inch coaxial, passive loudspeakers, which offer 90° x 45° dispersion. One L-R pair is mounted on a truss above the stage, while a second pair of delayed DX1595's is mounted halfway back in the room. Four Fulcrum Acoustic RX699 6.5-inch coaxial loudspeakers are mounted on the stage lip as front fills. "Fulcrum Acoustic has an excellent product line for this type of space," observed Ryan. "Their tight pattern control and advanced processing enabled us to direct their energy on the congregation rather than on the glass rear wall."
Compactness was important, too. "The system is visually exposed on the beams, so having a high-performance, high-powered system in a small, low-visibility package was a significant benefit," he explained.
The two small side areas-not conventional transepts but similar in appearance-can be divided from the sanctuary, providing additional spaces for classrooms and other needs. "We had to get creative and set those rooms up so the speakers could be used as part of the main system and as stand-alone system for conferences, classrooms, and so on," recalled Brian. Fortunately, the walls, ceiling, and carpeted floor in those rooms are fairly absorbent, so although the side rooms are acoustically different from the main sanctuary, they don't create audible issues. To serve these two rooms, Knox selected four Model S dual 8-inch coaxial loudspeakers.
"The lighting and audio systems are automated," explained Idibri Project Manager David Stephens. "So when the doors are open to the side rooms, the model S loudspeakers are delayed components of the main system. When the doors are closed, the systems automatically switch to classroom mode, in which the delay is defeated, and they serve as independent systems for the small rooms. This sort of setup is typical of ballrooms but much less typical of churches. It works very well in this situation."
All loudspeakers employed at Greentree are passive. Power and DSP are supplied by a QSC Q-SYS system. "System tuning was pretty straightforward," noted Brian, "because the Fulcrum Acoustic presets did most of the work for us."
While the Idibri team has used Fulcrum Acoustic loudspeakers on multiple projects, this was one of Amplio Systems' first Fulcrum installations. "It was a very positive experience, and the client is delighted," Brian enthused. "We've also heard some of Fulcrum's newest product offerings, and it's great stuff. We are eager to do more with Fulcrum Acoustic systems."