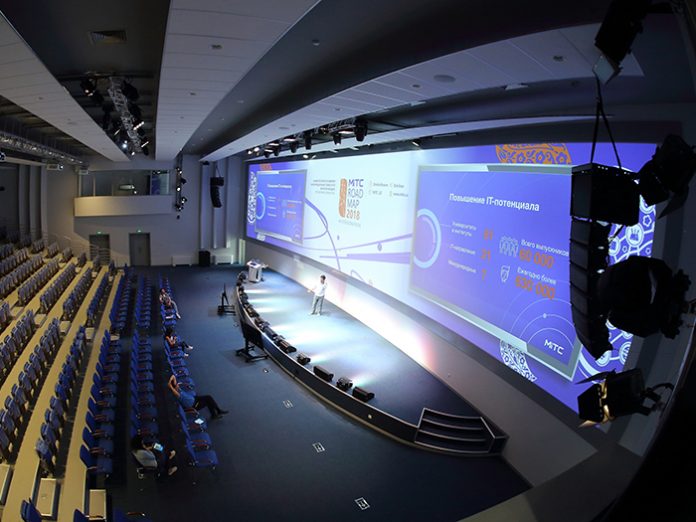 Founded in 2014 and opened last year, INHA University in Tashkent (IUT) was established as a result of co-operation between the INHA University of Korea and the government of Uzbekistan. Designed to be the most innovative and technically-developed educational institution in the Central Asia region, a major Yamaha audio installation is a vital part of an award-winning audiovisual solution, which is helping students on campus and with distance learning.
Polymedia-Uzbekistan, the local representative of Russian systems integrator Polymedia, was chosen to deliver a high specification, fully networked audiovisual solution at the university, including modern multimedia tools and the ability to facilitate distance learning. Yamaha sound reinforcement systems are a vital part of the project, installed in 12 lecture rooms and laboratories, as well as the university's large, multi-purpose lecture theatre.
Supplied and installed by Uzbek installer ShowPro, the audio system is based on a Dante network, which seamlessly integrates with the Extron GVE platform for campus-wide audiovisual system management and monitoring, via touchscreens in the presentation lecterns. The multi-zone system is designed to ensure the clearest sound for every student in each room, as well as having the ability to combine into a single, bi-directional environment. This could be, for example, to allow the classrooms to be used as overspill for a major event in the lecture theatre when more seating is needed, but still facilitate Q&A sessions.
Yamaha VXC8 ceiling loudspeakers and VXS8 surface-mount loudspeakers are used throughout the installation, with multi-channel XMV series Dante model power amplifiers. These can operate simultaneously in both high and low impedance, allowing connectivity of both loudspeaker types, without affecting the number of available output channels or the audio quality. In each space a Yamaha MRX7-D matrix processor is used to manage the audio system, using its onboard parametric EQ, dynamic feedback suppression, Dan Dugan automixing, matrix mixer, loudspeaker processing and delay to deliver optimum sound.
The most visible of the facilities is the Room 303 lecture theatre and the control room which overlooks it. This multi-purpose space can host a wide range of events and features a Yamaha QL5 digital mixing console (with MY4-AEC Acoustic Echo Canceller and MY8-LAKE Lake Processing cards) and a Rio1608-D I/O rack in the control room with the MRX7-D. Another Rio1608-D is provided on the stage for local I/O. Six pairs of VXC8W ceiling loudspeakers are installed above the auditorium, powered by an XMV8280-D multi-channel amplifier.
The system delivers maximum flexibility, allowing lectures and smaller events to be managed by the MRX7-D's Dan Dugan automixing and relayed via the VXC8Ws, while bigger events are mixed on the QL5 console to installed line arrays, which can be reinforced by the Yamaha ceiling speakers.
The 12 smaller lecture rooms and laboratories vary in size and layout, but the versatility of the Yamaha solution is highlighted by almost identical systems being installed in each one. Each system features an MRX7-D processor, an XMV8280-D power amplifier, a DCP4V4S controller, DCH8 digital controller hub, a pair of VXS8W surface-mount loudspeakers and from two to 12 VXC8W ceiling loudspeakers.
Audio inputs to the system in each room come from a lectern microphone, two wireless microphones, an aux input for extra local sources and the Extron system, for remotely-streamed content from INHA University of Korea.
The system designs were assisted by Yamaha's Commercial Installation Solutions Speaker Calculator (CISSCA) software which, for this project, helped ShowPro to create optimal Yamaha loudspeaker systems, delivering a very successful outcome in Tashkent.
"The brief was to provide the learning spaces with audio systems that would take into account the different designs and acoustic characteristics of each room, deliver a uniform sound field and ensure that every student experiences equally high quality audio," says Mr Ilshat Kallimulin, ShowPro's main project engineer, who designed and implemented the system.
"We are very pleased that Yamaha audio systems are helping IUT to enhance education and the improvement of society in Uzbekistan."
Mr. Muzaffar Djalalov, Acting Rector of INHA University in Tashkent, added, "The system is very easy to use via the DCP wall panels and Extron touchscreens. The sound for any type of presentation is excellent, with the Dan Dugan automixing makes a big difference in only needing to have a sound engineer on duty for bigger events in the main lecture hall."