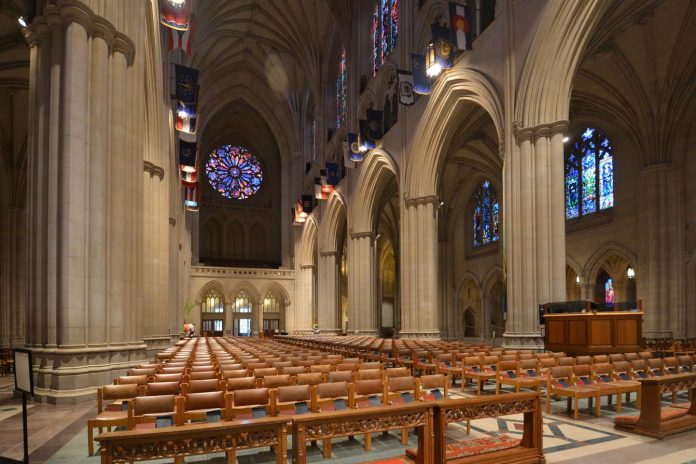 The Washington National Cathedral is widely referred to as America's "spiritual home." Designated by an act of Congress as the "National House of Prayer," the 1907 structure symbolises the emotional heart of the nation in the middle of its political capital. However, the Washington National Cathedral has the same economic concerns as any church or other non-profit institution: it has to operate as cost effectively as possible.
When integrator AVI-SPL's Special Projects Group was brought in earlier this year to look at updating the sound system they installed there 15 years earlier, they carefully chose the components that could remain in place, such as the custom speakers and amplifiers, and just as carefully chose replacement elements that would keep the system performing at a high level for years to come. The centerpiece for that was the XTA 4 Series DSP processing platform. Not only did the addition of 11 DP426 and six DP424 units bring new life to the system—the XTA 4 Series processors succeed an equal number of XTA 2 Series processors installed there as part of the original system, which meant that all of the data containing information for the painstaking tuning that went into the original installation process could be easily and accurately transferred over to the new processors.
"Churches naturally are very cost sensitive, and we're sensitive to that," says LD Parker, business development manager at AVI-SPL's Special Projects Group in Columbia, Maryland. "We were able to keep some of the major components of the system, which helped with costs. However, advances in DSP technology meant that there would also be an efficiency benefit to upgrading the system's processors. We put XTA 2 Series DSP in there when we first installed the system, and it made sense to stay with XTA and the very advanced 4 Series processor for the upgrade."
Not least of all because of the ability to seamlessly transfer the data from the 2 Series processors, which contained the EQ and other filter settings established by Craig Janssen, a noted systems and acoustical expert, managing director of consultancy Idibri (formerly Acoustic Dimensions), and past president of AVIXA (formerly InfoComm).
"We were able to import the files that had all of that information, which had kept the system at peak performance all this time," says Parker. "It was part of the upgrade strategy where we also left all of the system cabling place, which allowed us to do the upgrade over just two days, and without at all interfering with what has to be one of the busiest house of worship in the world."
Mark Huffman, technical director at the Washington National Cathedral as well as its audio engineer, appreciated that along with the fact that the church's sound remains excellent. "The process was completely transparent," he says. "We already had a great sound system, in part because the XTA converters we've used all along are the best in the business, but the upgrade to 4 Series has been a noticeable step-up in sound quality as well as ensuring even higher reliability. And that makes us very happy."
Based on a completely new processing platform, running at a native sample rate of 96kHz, the 4 Series sets a new standard in terms of performance, flexibility, and ease of use. Combining masses of DSP power with multiple I/O (including digital), the 4 Series provides a range of products that make it easy to configure even the largest and most demanding audio systems. With two or four fully balanced inputs, and up to eight fully balanced outputs, it also offers greatly increased flexibility, able to offer much more than a simple crossover system. To make configuration as simple as possible, a selection of templates are available to set the system up, taking care of routing and selecting useful crossover points.
Available on each input channel is a 28-band graphic equaliser, in addition to eight bands of fully parametric equalisation. Each output path features up to nine parametric sections, in addition to the crossover filters, which themselves now offer slopes from 6dB/octave up to 48dB/octave.
www.audiocore.co.uk