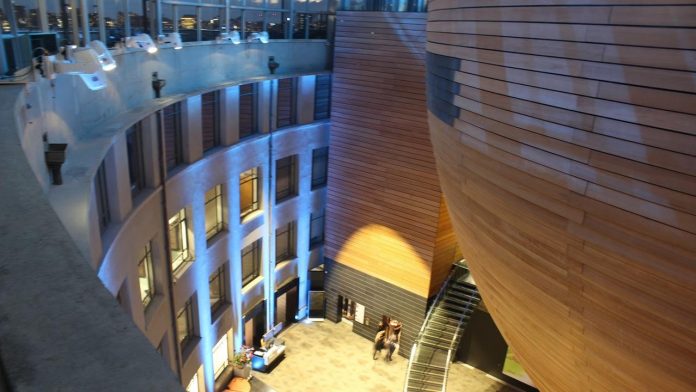 The Auckland War Memorial Museum is one of New Zealand's most important landmarks. In addition to exhibits commemorating nation's involvement in World War I and World War II, the museum features a rich collection of New Zealand natural and historical artefacts.
Tasked with replacing the repair-prone incandescent fixtures in the museum's impressive south atrium foyer space, MDR Sound and Lighting installed 12 CHAUVET Professional Maverick MK2 Spot fixtures to provide permanent illumination. There are a number of reasons why the Mavericks were deemed well suited for this important project, most significant among them are the fixture's excellent CMY + CTO colour mixing capabilities and their punchy 440W output.
"We found that the Mavericks were the only fixtures we tested to render all colours perfectly even at 100% output," commented Auckland Museum's Liam Brown. He added: "This is a foyer space that receives indirect sunlight most of the day through its south facing glass ceiling, but the brightness and intensity of the Mavericks overcome this without any problem."
Thanks to the versatile performance features of the Maverick MK2 Spot (which include two rotating, indexing and interchangeable slot and lock gobo wheels; a 3-facet prism and frost for beam control; and 13º – 37º zoom range), the museum is equipped to provide a whole manner of creative looks that transform the foyer for different occasions.
"When they're not providing general coloured wash lighting in the evening or early morning, the Mavericks function as pin sharp spot lights to focus on the objects on display at ground level," said Brown. "Lighting the four-story high concrete walls with gobo effects looks particularly amazing and creates an interesting juxtaposition to the old architectural style during special events held within the museum."
In order to install the Mavericks, MDR had to attach the fixtures discretely to heritage concrete and plaster work while still being seismically safe and secure. Thanks to the compact weight and size of the Maverick fixtures, MDR was able to fix the fixtures into place without causing extensive architectural adjustment.
Having already installed 50 white coloured CHAUVET Professional COLORado fixtures in another section of the museum in a previous installation, the proven reliability of CHAUVET Professional fixtures gave the museum the confidence to invest in the Maverick MK2 Spots. All that was left for the museum to do was to commission a local provider to paint the Maverick fixture with the same white coating so as to have them blend in with their architectural surroundings.
"Compared with other similar performing fixtures, the Maverick ticked more boxes for us. With the price, we could afford to install 12 of these fittings professionally and safely with room to spare in the budget for the custom paint job," concluded Brown. "The colour intensity, features and overall practical considerations made it the perfect fixture for the museum."
www.chauvetprofessional.com