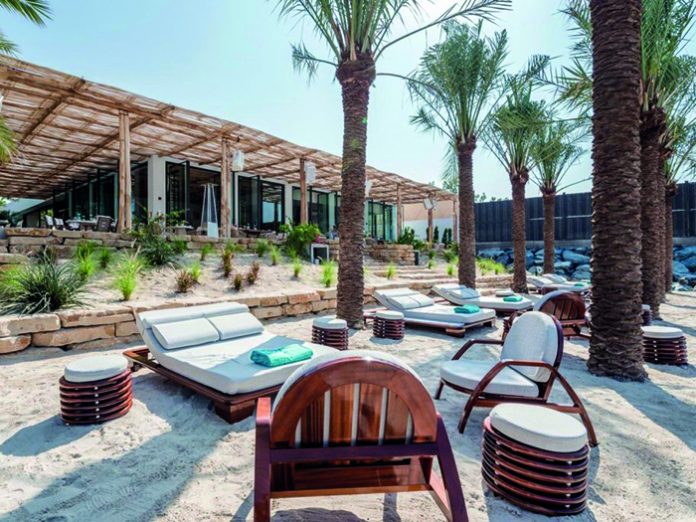 The Greek island of Mykonos is equally celebrated for its natural beauty and beachfront party culture, where vibrant dance clubs often remain lively well past dawn in the summertime. The luxury resort, Nammos, caters equally to both daytime and evening crowds, with high-end dining and retail experiences that perfectly complement the late-night concerts and DJ sets.
The success of the Mykonos location influenced the owners to open a second location this year in Dubai. Since opening, Nammos Dubai has quickly gained a similar reputation as its flagship, replicating the same luxury hospitality model for high-end clientele.
Music is naturally an essential part of the Nammos experience. As a ground-up construction, ownership considered the role of technology in creating the audio experience for guests from the start. The management team brought Dubai-based AV integration firm Levels into the project early on to ensure that requirements were met across the board, from signal processing and distribution; to audio reproduction and architectural visibility.
"The general concept was to create an atmosphere unique to each space, with the ability to throw a party anywhere on the property, said Hassan Alwan, Managing Partner, Levels. "That meant accommodating pop-up setups for musicians and DJs, and filling several large spaces with pristine sound. We wanted a lot of power and flexibility, and wanted to centralize as much of the core technology as possible."
Levels put as much thought into the technical infrastructure as the guest experience, ensuring that user-friendly control would synergize with the positive energy created through the audio system. Being part of a new build provided the freedom Levels needed to achieve their goals without hindrance.
"We were fortunate to be able to build the infrastructure the right way from day one," said Daniel Ball, Partner & Technical Lead, Levels. "We built a dedicated, managed 1Gbps AV network that bridges to the main site IT backbone, and implemented a fiber topology with a star configuration between network switches. That configuration provides one core layer of switching and routing to move audio to the edge layer of switches.
"We rolled out a Dante network within that architecture, and connected the individual Dante devices to those edge switches," continued Daniel. "That configuration eliminates the latency issues that develop with daisy-chain configurations or hops through Dante devices on the network. This was especially important for live performances, where latency is critical and we could ensure no audible delays in sound delivery. We also split Dante audio and control into two physical network layers to maximize bandwidth, and eliminate collision and conflict issues."
Two Xilica Solaro FR1 modular card-loaded DSPs sit at the core of the solution, moving sources on and off the Dante network that distributes audio to 20 discrete loudspeaker systems. The Solaro DSPs are located in a rack room with Powersoft Quattrocanali and Sonance DSP Series amplifiers; the loudspeakers comprise a mix of Sonance VP Series (in-ceiling) and Pioneer Pro Audio XY Series (outdoor) systems. The livelier spaces, including the Beachside Terrace and Cabana Living Lounge, add CS Series subwoofers from Fulcrum Acoustics to punctuate the low-end.
"The property is tucked into a parcel of land between another private facility and the Four Seasons Hotel at Jumeirah," said Hassan. "The positioning of the loudspeakers were especially important in the outdoor areas to direct sound in specific ways, and reduce outbound loudspeaker levels and spillage into these adjacent properties. The Pioneer XY Series provides the ideal flexibility to serve specific directional patterns outdoors."
Daniel opted for two Xilica Solaro DSPs to even the audio load within the infrastructure: "There are more than 160 output channels on the amplifiers in this system, and we wanted to simplify the processing pathway by having two dedicated DSP. That split makes everything far more manageable not only for programming and commissioning, but also for optimizing efficiency when distributing the processing load."
The Xilica Solaro systems are managing more that 80 discrete audio flows, according to Ball, with sampling rates of 24-bit 48kHZ. (Solaro can accommodate 24-bit 96kHz audio on Dante networks.) The Xilica Solaro systems bring in both analog and digital audio sources, with plenty of flexibility for live bands and DJs that set up on temporary stages.
"There is a variety of talent coming in with different gear, and they can all plug into Dante injectors that plug into any number of network ports around the property," added Daniel. "We have a small Soundcraft mixer with Dante board to handle in-house microphones, and we have some DiGiCo gear that we provide our own outboards mixes for to support larger events." There is a dedicated stagebox that connects to the DiGiCo to support concerts and larger live events.
All of these systems face the Dante network and move signals into the Xilica Solaro systems. Daniel continued: "The way Solaro manages the Dante inputs and outputs is quite unique, including how they can accommodate a mix of signals from legacy and unknown gear, and then address the digital audio connections all the way to amplifier stage.
"Solaro cleanly processes these signals that are then distributed to 40 amplifier systems over Dante."
Of the 40 amplifier systems, 29 are four-channel, 1200-watt Quattrocanali amplifiers from Powersoft. These are very compact amplifiers that live in the same rack space as Solaro, which is also efficient with real estate. The entire system lives inside three 44RU racks in a small, dedicated room.
Daniel noted that the expandability of Xilica Solaro is critical to future growth of the entire systems: "We made sure to provision a large number of free ports so that the extra bandwidth is there when we need it.
"The modularity of Solaro makes it so easy to add new gear, whether temporary gear or an expansion of the permanently installed system. The control benefits are enormous as well, as on-site personnel can very easily control audio routes and settings using an iPad. It's a very easy system to use, and does not require a house technician or engineer to manage the system. It's a perfect foundation for long-term growth."