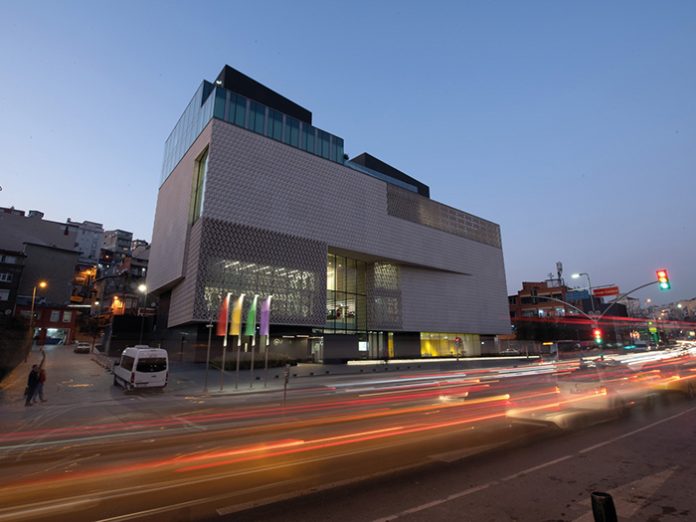 MSolutions, a leading supplier of test devices for commercial and residential audiovisual environments, reports that Glantre Engineering, a UK-based audiovisual and entertainment systems contractor, has added MSolutions' portable MS-TestPro MS104B test device to its installation toolset. The device gives Glantre Engineering's installers a new handheld device to verify 4K HDBaseT connectivity and signal presence for projects throughout EMEA, and a cost-efficient alternative to competing test devices that limit installers to specific applications.
Glantre Engineering previously used network test devices from a competing vendor that have performed well, but fell short during a theatre audiovisual installation for the recently-opened Arter Museum in Istanbul, Turkey. Challenges arose while testing HDBaseT connectivity for HDBaseT PTZ HD camera systems, with the other test equipment being unable to verify HDBaseT compatibility over a 65-metre category-cable run—well below HDBaseT's maximum connection distance of 100-metres (328 ft). The equipment vendor's support team had passed blame to the cabling infrastructure.
"It turned out to be a device firmware issue that was difficult to resolve," said Tim Davies, Director, Glantre Engineering. "We purchased the MS-TestPro, certified the cable for 4K HDBaseT and identified that the Valens firmware on the camera transmitter board was very old. This information sent us back to the manufacturer to obtain replacement HDBaseT transmitter boards to fit onsite. We now exclusively use this tester for certifying our HDBaseT systems and can quickly certify all of our CAT6A shielded tie lines for HDBaseT at various resolutions."
Tim is especially impressed with its user-friendly nature in the trenches, including Wi-Fi connectivity between the MS-TestPro and personal mobile devices. "I don't have to physically carry a tester up a ladder with me anymore, or access both ends of the cable to fault-find," he said. "I can plug the MS-TestPro into one end of the cable, recall the software on my smartphone, connect to the tester, and certify a cable using whatever HDBaseT receiver is attached to the end. This proved very helpful for the Arter Museum project, which covered theaters, art galleries, meeting spaces, and other audiovisual environments across eight floors."
Tim is currently evaluating MSolutions' HDMI Cable Tester module, which attaches to the MS-TestPro for verifying structural cable integrity. In limited use, Glantre has used the module to identify problems with 10-metre passive HDMI cables prior to installation. The HDMI Tester Module eliminates the need to purchase a separate HDMI device for testing, most of which are limited to pattern testing versus structural wire testing underneath the HDMI cable shielding.
For Tim, the real value comes down to knowing that his installed audiovisual systems will perform as advertised after leaving the job site. "This is a better fit for audiovisual installers than an expensive network tester built for structured cable testing and certification. It offers a much quicker return on investment for audiovisual installers," he said. "We leave with 100 percent certainty that our systems are properly tested and functioning correctly, and with certification documents to validate every HDBaseT connection in the system. That is important, as warranty claims can be investigated without installers being on the hook for problems caused elsewhere."