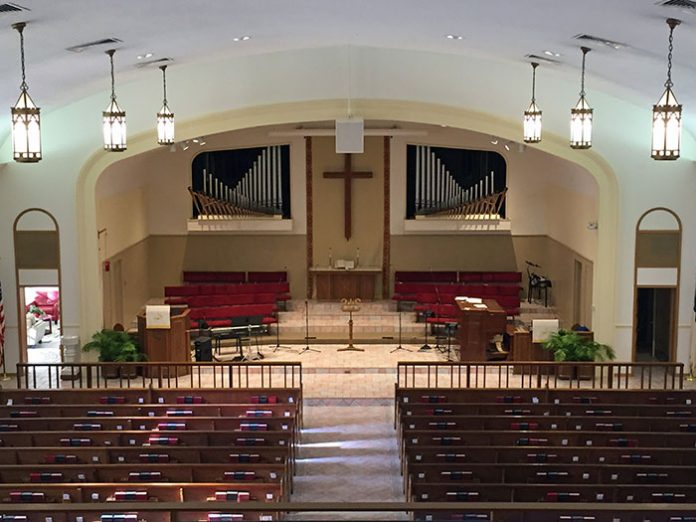 Founded in in 1868 by the Reverend Jesse Knight, Venice-Nokomis United Methodist Church has been providing spiritual guidance to the local community for 147 years. Like many houses of worship, the church has evolved over time in order to address the interests and expectations of its congregation. Recently, church management determined that a new sound reinforcement system was necessary to better support its various programmes – leading to the deployment of an X3i Ultra Compact Line Array system drawn from the TrueLine catalog of WorxAudio Technologies.
Creative Sound and Lighting Solutions, an AV design/build firm that handles audio, video and acoustics for the commercial and church markets, was contracted to design and implement the new sound system at Venice-Nokomis United Methodist Church. Rob Robinson, general manager and co-owner of the firm, managed the project. He discussed the installation and his reasons for selecting WorxAudio's TrueLine X3i Ultra Compact Line Array.
"Until the deployment of the WorxAudio X3i line array system, services remained fairly traditional," Rob explained. "Like many churches these days, they recognised the need to offer a more contemporary program as the best means for engaging and, thus, being more relevant to the younger generation. The goal was to deploy a system that not only increased speech intelligibility and provided consistent coverage throughout the space, it also had to provide solid support for music. Only then would a praise band and vocal team have the means of delivering the type of content that younger members of the congregation could appreciate."
To address these requirements, Rob and his crew flew a single WorxAudio X3i line array in the centre of the stage with the bottom of the cluster roughly 18 feet above the floor. With an unusually broad 160° horizontal throw and vertical dispersion of 40°, the WorxAudio X3i incorporates three modules, each with a medium format, 1-inch exit compression driver and dual 8-inch cone transducers.
When queried about those attributes that made the WorxAudio X3i the ideal choice for this particular project, Rob offered the following: "The horizontal dispersion on the X3i is simply unmatched by the competition. This feature enabled us to place a single enclosure that's capable of covering the entire space. With this particular installation, we chose the 3-module line array because the top module provided the necessary throw to cover the balcony area. Hence, a single enclosure covered all areas of the sanctuary with minimal impact on line-of-sight and aesthetic considerations – and best of all, it sounds terrific."
Venice-Nokomis United Methodist Church's new sound system was deployed in mid-October and was placed into service almost immediately afterwards. Since that time, Rob reports his firm has received nothing but compliments. "The church's project manager, Gary Sanderson, told me after the first service that it went better than he ever expected," Rob said. "The sanctuary has never had that type of coverage with any SR system in the past. People can hear clearly wherever they sit and the music sounds better than ever. This was the perfect system to inject a new sense of purpose into the church's services."