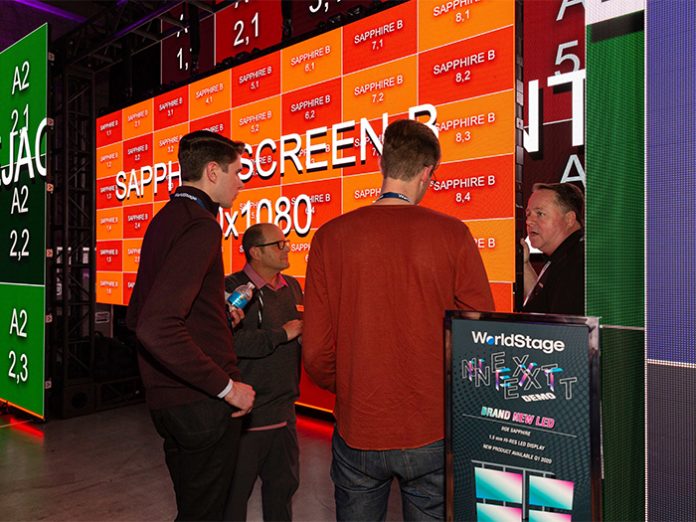 WorldStage was first in line to take delivery of ROE Visual's new narrow pixel pitch LED platform, Sapphire, for the US rental market. The super high-resolution 1.5mm pixel pitch LED panel joins a growing inventory of LED displays and solutions available from WorldStage.
"It's exciting to be among the first to offer Sapphire to our rental customers," says Gary Standard, President and CEO of WorldStage. "Sapphire is a very innovative product that meets the quality standard that ROE is known for. We're pleased to add Sapphire to the high-resolution boutique products our discerning customers are looking for."
ROE Visual Sapphire is a narrow pixel pitch LED screen for indoor use that provides vivid, razor-sharp imaging in expanded configurations. By combining small, easy-to-handle LED panels with a separate supporting frame, it provides a highly customizable creative alternative to the traditional rectangle without the need to invest in new hardware.
Since Sapphire's introduction at InfoComm 2018 WorldStage has been working with ROE to improve the platform's mechanical and electrical design. The final product has evolved and promises to be a paradigm-shifting solution that will offer enhanced creative options.
WorldStage offers Sapphire with Megapixel VR's new HELIOS LED processing platform capable of an end-to-end 8K workflow. The flexible processor futureproofs Sapphire for super high-resolution content.
Josh Perlman, Director of LED Services at WorldStage sees Sapphire as, "playing a key role in trade show exhibits, experientials, and smaller presentation spaces featuring high-profile presenters where audiences are in close proximity to the display. It can also be used as the primary super high-resolution display and combined with other LED display products to create a larger canvas for layered content designs."
WorldStage showcased Sapphire in this way at the recent NEXT Technology Demos in New York and San Francisco combining a large central display of Sapphire flanked by multiple walls of StageJack LED. Developed and manufactured by WorldStage, the StageJack large-format, carbon-fiber LED panels provided a backdrop to the super high-resolution Sapphire wall and expanded the visual canvas left and right to create a dynamic stage presence with eye-catching depth.
WorldStage also showcased Sapphire recently at CES 2020 where Intrepid Creative designed an engaging environment for Intel where visitors walked among double-sided Sapphire LED towers displaying data-driven content.