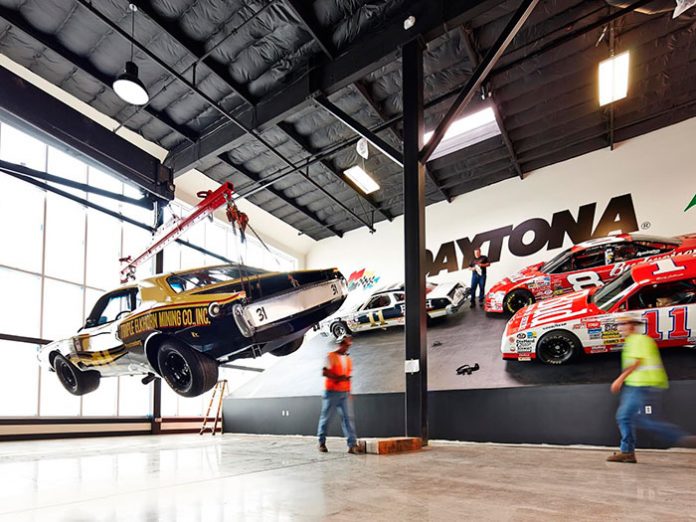 Dedicated to the celebration and preservation of American motorsports, World of Speed is an educational museum featuring 53,000 sq ft of historic race cars, racing boats and motorcycles that tell the story of America's motorsports culture.
The museum's many exhibits and hands-on educational programs make good use of modern AV technology. Four 80-inch video screens with racing videos and music greet visitors at the museum entrance. A 150 ft by 30 ft video wall, entitled 'Zero to 1000 MPH', presents an exciting AV history of the world land speed records set at the Bonneville Salt Flats.
A 'Wall of Sound' display, featuring classic guitars and vintage phonograph equipment, recalls the rock music songs that accompanied 1960s muscle cars.
Delta AV of Gresham, Oregon designed and installed World of Speed's AV systems. Delta's Dave Garlett said the museum wanted great audio and video integrated with its exhibits and they wanted their AV content streamed over an IP network so that all programs could be available at every exhibit, in every classroom and in the boardroom.
To meet these goals, the museum's various systems are connected by a flexible Dante-capable AV network with connections throughout the facility. Delta installed Hitachi projectors and Sharp displays for the video systems and chose Community D SERIES loudspeakers powered by Crown amplifiers for the museum's audio needs. Community DS8 surface-mount loudspeakers serve the 'Zero to 1000 MPH' video wall and DS8s also serve other exhibits throughout the museum. Community DP8 pendant loudspeakers are used for distributed sound in open-ceiling areas and D5 and D6 ceiling loudspeakers are used in dropped-ceiling areas such as the classrooms and the board room.
Michael Garcia, World of Speed's Communications Director, said: "High-quality audio and video are essential to the kind of experience we want for museum visitors and for our educational programs. The Community loudspeakers sound great and help us meet that goal."