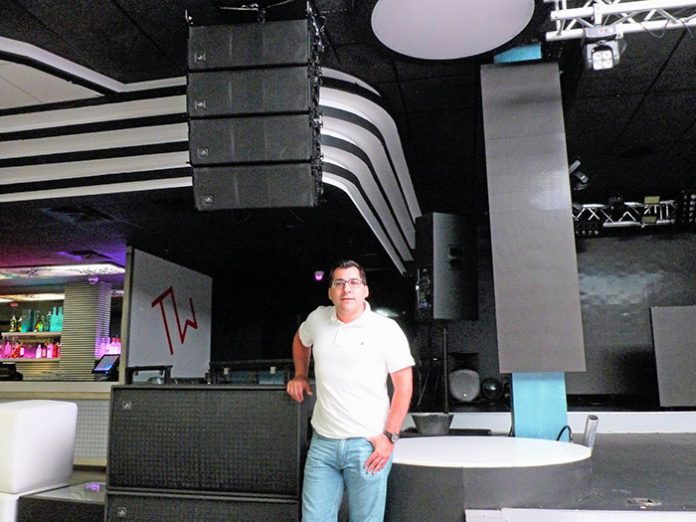 Twelve Miami is a club that focuses on promoting live concerts every weekend in addition to hosting various electronic nights and other cultural events. Since opening in February 2016, notable artists that have appeared at the club include Chino y Nacho, Farruko, El Gran Combo, El Binomio de Oro, Caramelos de Cianuro, and many others. To ensure the best audio reproduction for a wide range of events, club management wanted a versatile sound reinforcement system, which they found with components from the Event, Artec, and Vantec Series catalogs of Valencia, Spain-based D.A.S. Audio.
PA Sound and Solutions Corporation of Medley, FL, a company dedicated to the distribution and sale of audio and lighting equipment for export as well as sales throughout the American domestic market, coordinated the transaction for the newly opened Twelve Miami. Leandro Arguello, the company's Sales Manager, discussed the project and his decision to deploy loudspeaker systems from D.A.S. Audio.
Leandro commented with the following: "Since the club regularly hosts a lot of live acts and uses DJ's as well, they required a versatile system capable of performing well for both types of acts. The sound system needed to be capable of handling both live music and music playback accurately, have good speech intelligibility, and provide even dispersion throughout the room. The combination of the D.A.S. Event Series 210A line arrays and 218A subwoofers—augmented by the company's Artec and Vantec point source loudspeaker enclosures—worked out really well. The system covers the entire area evenly with great low end and clarity."
The D.A.S. loudspeaker setup at Twelve Miami includes a total of eight Event 210A 3-way active line array enclosures: flown four elements each for the left and right main hangs. These loudspeakers are augmented by four D.A.S. Event 218A powered subwoofers—two enclosures each for the left and right sides of the stage, positioned on the floor. To ensure event coverage at the very front of the stage area, there are four D.A.S. Artec 508A powered 2-way loudspeaker enclosures placed across the front of the stage.
For the performers, the on-stage monitoring setup includes four D.A.S. Vantec 15A powered 2-way side fill enclosures as well as four Event M210A 3-way active stage monitors. Loudspeaker management is provided by a D.A.S. DSP-4080 4-input / 8-output stereo / mono processor. Products from Accenta USA handle system cabling, while an Avid Venue SC48 console handles mixing chores.
With any sound reinforcement system of this nature, questions invariably arise both before and during installation. When queried about his experience with D.A.S. Audio's customer and technical support services, Leandro offered the following thoughts: "The technical support from D.A.S. Audio's commercial technical support team has been excellent. They helped us choose the best equipment for the project and had our back all the way until installation was completed. With their help, the products we selected were the perfect fit. D.A.S. Audio delivers great products and equally impressive support services. They're a first-class operation."
Leandro concluded that feed back from performing artists since the installation have all been very complimentary: "Everyone who has used the new system has been very pleased. The sound engineers for both the house and the artists have all been really impressed with the system's performance. We received numerous compliments for both the sound quality and the versatility of the system. This, in turn, makes our client very happy."