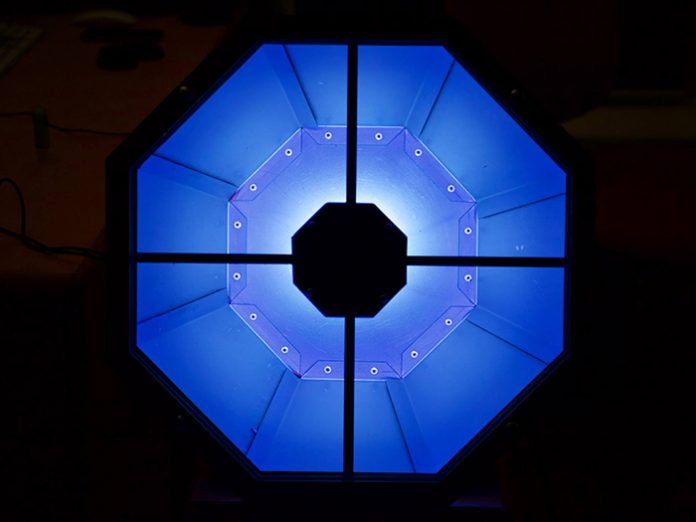 The Swedish manufacturer of W-DMX has recently supported the students of University of South Wales in the UK, completing BSc. degrees in Live Event and Lighting Design. Wireless Solution provided Wireless technology to the final year students that wanted to integrate W-DMX into their final-year projects.
The USW degrees encourage students to create a lighting fixture that could be commercialized – this includes specifying, designing and creating a product prototype, before presenting it in a trade-show environment, along with other engineering students.
Flare – the featured product with W-DMX – was created by Charlie LaPage Norris, Oliver Jenni, Pedro Socias and Matt Didon, all final students from USW. The fixture includes a variable white LED source with an RGB backlight system, able to be pixel-mapped and with a Wireless Solution receiver as standard.
Last year, Wireless Solution sponsored two students to be alongside the company at Light and Building and Prolight and Sound trade-shows, both in Frankfurt. This year, Wireless Solution provided the same sponsorship to student David Howard, currently doing a placement year at Enlightened Lighting in Bristol.
Stuart Green, course leader at University of South Wales, commented: "In the world we now live in an understanding of science and technology more important than ever. The support from Wireless Solution has enabled students to develop product and knowledge that will be invaluable as they enter the industry."
Wireless Solution is a strong supporter of the new Wireless generation: "I remember picking up one of our 'Cable Sucks' pin at a trade-show, when I was studying", said David Ferraz, International Business Development Manager for Wireless Solution. "I still have it today. The strong impact our products have among younger technicians and designers is incredible – it makes them come up with brilliant ideas for outstanding lighting and product designs. Finding these projects makes my job even more enjoyable!", David added.