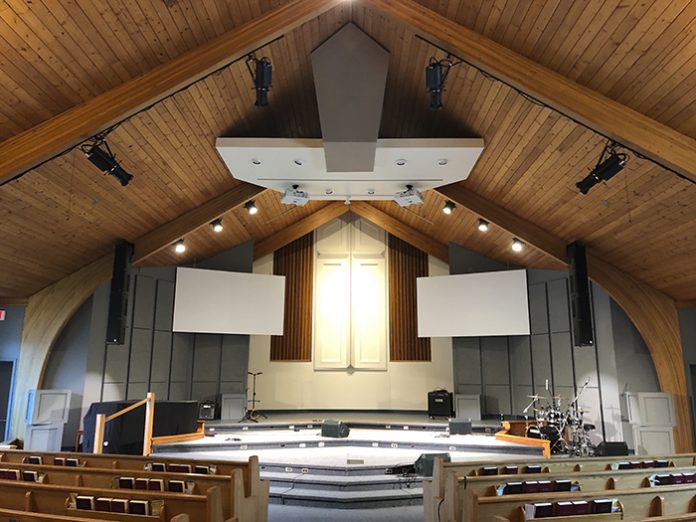 The Fort Garry Mennonite Brethren Church in Winnipeg, Manitoba is, according to its head pastor Carl Heppner, "a vibrant faith community where people of all ages and backgrounds can find a place to belong." It is also a contemporary church known in the area for incorporating a full band into its services. And that is why, when it came time to upgrade its audio capabilities, the church went with a system backed by Renkus-Heinz.
"The church wanted a cutting-edge system, from audio to video," said Myron Dyck of Golden West Sound Design, the integrator who installed the new AV system. "What we installed encompasses everything from IP video distribution and projection, stage lighting and acoustical treatment, and the absolute best sound possible. So, that meant going with Renkus-Heinz."
Myron said he turns to Renkus-Heinz when clients are seeking audio that provides excellent clarity and intelligibility. One major benefit of utilizing Renkus-Heinz in an installation is the ability to leverage the power of the company's cutting-edge digital beam steering technology. With Renkus-Heinz digitally steerable arrays, integrators are empowered to put sound where you want it: on the congregation. The result? Superior sound in any environment.
"I knew this would be a Renkus-Heinz install from the start," Myron said. "The church was looking for a high level of quality both for the band and in speech intelligibility. Renkus-Heinz is creating some of the most impressive products on the market today, and I always appreciate the recommendations they make as to what will work best. I can take the information they provide in terms of design work and show the client exactly what they can expect in terms of coverage."
Fort Garry Mennonite Brethren Church is a 300-seat, A-frame facility that, in the past found it challenging to achieve consistent coverage from front to back. When the church fills to capacity, that lack of coverage had been a huge detriment to the message being delivered.
To remedy this, Myron turned to Renkus-Heinz' ICLive X Series, which brings a new level of flexibility to integrators and contractors seeking to improve sound in any space – no matter the size or shape. ICLive X is a complete system consisting of two freely combinable, steerable-array modules, the ICLX and ICLXL, and a matching subwoofer, the ICLX-118S.
For the Winnipeg installation, Myron installed two ICLive XL loudspeakers and two ICLive X loudspeakers in matching arrays at the front of the hall.
"Everything about it is excellent," Myron said. "It was relatively easy to hang and install up against the ceiling using custom made mounts, and we had perfect coverage immediately. Everyone is extremely happy with the end result."