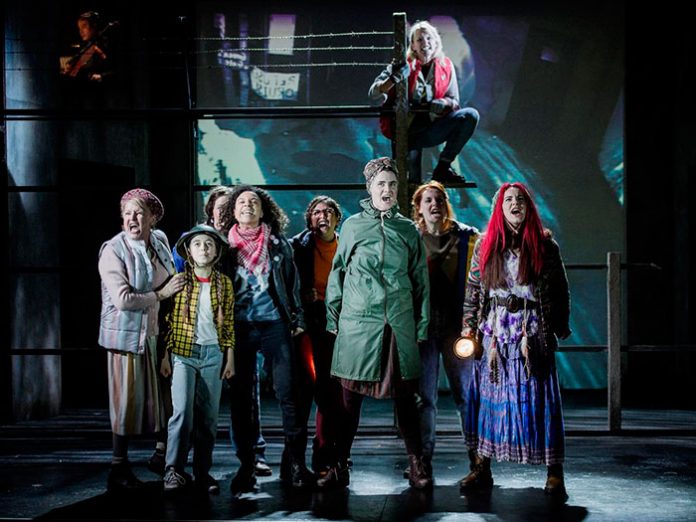 Beyond the Fence is a landmark piece of theatre, being the first musical ever to be conceived and crafted entirely by a computer. The show has been modelled on a study of the most successful hit musicals and features a talented cast performing alongside computer-generated material. It is currently running at the Arts Theatre in London's West End until 5 March. As the leading lighting supplier to the West End, White Light was the natural choice to provide the equipment for this state-of-the-art production.
Lighting Designer Howard Hudson said: "The show is set mainly inside a camp, with brief moments of characters going 'beyond the fence' as it were. The distinction between the two sides of the fence was the main driving force of the design, particularly as the set had a revolving fence structure. The show also ranges from your standard musical ballads to big production numbers so the lighting had to cater for a variety of set pieces."
To achieve his ideal design, Howard drew on Martin MAC Viper Performances, Martin MAC Viper Wash DXs, Martin MAC Auras, VariLite VL1000s and ETC Source Four Lustr 2s, with the show being programmed on an ETC EOS Console.
Howard stated: "One of the biggest challenges for this production was fitting a show as ambitious as this into a space as intimate as the Arts. The rig had to be flexible with both front of house and overhead positions and most of the fixtures were chosen with this in mind. For instance, we needed a flexible, low frontal cross light and the only fixture that offered the flexibility and met the weight restrictions was the Martin MAC Aura. It was a case of choosing the best equipment for the show yet also ensuring that it was suited for the Arts Theatre space. Fortunately WL had an extensive lighting inventory that I was able to draw on."