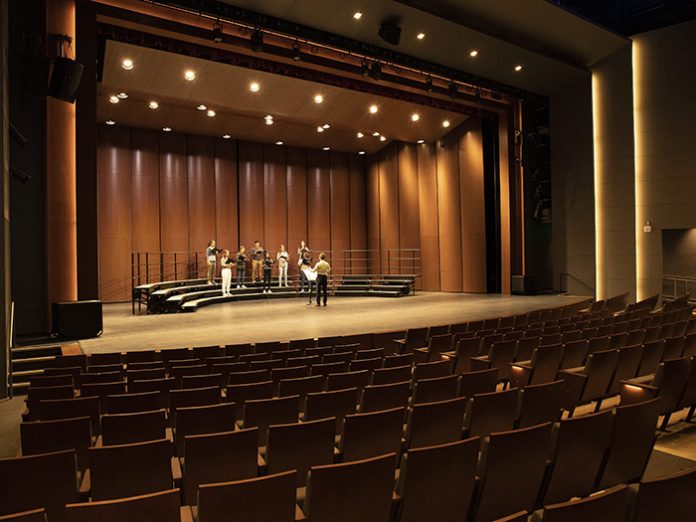 Wenger Corporation has announced its latest installation of acoustical, staging, rigging, control equipment, and lighting integration at the prestigious Kinder High School for the Performing and Visual Arts (HSPVA) in Houston, Texas. Kinder HSPVA is one of the top-ranked performing arts schools in the country.
With integrated solutions across all of those categories, Wenger Corporation, with its Wenger and J.R. Clancy brands, could accommodate the needs of the many performing arts spaces in the newly designed school. Crews installed equipment in a variety of educational and performance spaces, including the main Denney Theatre, Black Box, Studio Theatre, Recital Hall, Dance Studio, Light Lab, Recording Studio, and rehearsal rooms.
Spearheaded by the Houston Independent School District Construction Services department, the design team included Gensler Architects and McCarthy Building Companies, who worked directly with Wrightson, and Johnson, Haddon & Williams, Inc. Theatre Consultants (WJHW), primary structural engineer Cardno Haynes Whaley, primary mechanical, electrical, and plumbing engineering consultant Shah Smith and Associates, and several associate consultants.
"We didn't just build a state-of-the-art school, we built a performing arts complex that will impact future artists for generations to come," said Jim Stevenson, Houston division president of McCarthy Building Companies.
Kinder HSPVA was built as part of the Houston Independent School District's voter-approved 2012 Bond Program, which calls for the renovation or rebuilding of 40 schools, including 29 high schools across the district. Located near Houston's renowned Theater District, the school opened its doors to students on Jan. 7, 2019.
The $88 million project features specialized performance and fine arts spaces to enhance the artistic environment of the unique school and is designed to accommodate 750 students specializing in the arts disciplines, including theatre, writing, music, visual arts and dance. The five-story, 168,000-square-foot building features a dramatic front entrance with double-high glass windows and a wide stairwell, 800-seat main theater with a balcony, dance and music studios, 150-seat recital hall, 200-seat theater, 190-seat black box theater, rehearsal rooms, modern outdoor dining area, two levels of underground parking and an outdoor roof terrace.
During the two-year span of construction, Wenger Corporation, known for acoustical and rigging equipment, had added lighting system solutions to its breadth of product offerings. In the Denney Theatre, Dance Studio, Recital Hall, Black Box, and Light Lab, Wenger provided integration of all entertainment lighting fixtures, networking, distribution, and lighting controls.
The integration of the lighting solutions across the building provided the school with ease of control and serviceability. Wenger also managed the integration of the multi-faceted project including the lighting elements, acoustical shell, automated and counterweight rigging solutions, motion control solutions, portable audience seating, staging, and music rehearsal equipment.
"The integration provided continuity in the building for those using the equipment, as well as a single point of contact for any service questions," said Ryan Cole, Wenger Corporation Project Manager.
The heart and soul of the building is the 800-seat Denney Theatre, which is utilized for a variety of performance types ranging from orchestra and choral to dance, theatre, and lectures. To enhance the sound quality and ability to cater to these performers, teams installed a variety of Wenger and J.R. Clancy equipment, including:
A custom lighting integration system, including LED theatrical lighting, networking, distribution, and theatrical and architectural lighting controls with customizable settings.
A Diva Acoustical Shell to improve the sound for audiences as well as performers on stage.
A SceneControl Motion Control System, with the ability to program a number of shows, no matter how complex. Multi-level cueing, grouping, and control of an unlimited number of axes per cue make this console perfect for Kinder HSPVA, which presents a wide repertoire in a single season.
A cost-effective counterweight rigging system.
PowerLift Hoists that are accompanied by additional custom automated rigging solutions.
Signature Choral Risers and conductor's equipment that are lightweight and provide ease of mobility for flexible set-ups.
The J.R. Clancy rigging equipment and motion control systems are specifically designed for maximum safety and ease of use, a benefit for the technical staff, teachers, and students using the equipment.
In the Black Box Theatre, the Wenger portable audience seating and StageTek risers provide flexible configurations for the theatre's many needs. They're lightweight, strong, and easy and quick to set up and move. Integration of the lighting fixtures, distribution and controls, as well as a wire tension grid, curtain tracks and drapery round out the technology in this highly versatile space.
For the band, orchestra, and vocal areas, Wenger installed 31 SoundLok Practice Rooms with superior sound isolation, making each room 25 percent quieter than any other practice room available. The correct amount of absorption and diffusion is built-in so the musician can clearly hear the best possible sound. The rooms also have built-in virtual acoustic environment (VAE) technology, allowing the musician to learn how to adapt to performing in different performance spaces and get immediate feedback with record/playback during the practice session.
AcoustiCabinets and a String Bass Rack keep instruments well organized when not in use. And StageTek portable stages and riser systems help them prepare for any number of rehearsal situations.
The equipment in the new facility is providing students, staff, and faculty with the opportunity to improve their performances, continuing its long-standing tradition and nationwide acknowledgement of excellence.
"Kinder HSPVA is truly a school like no other," commented Principal Scott Allen. "As I walk the hallways of the school and observe students studying and participating in a variety of creative endeavours, I realize how fortunate they are to have a fine arts campus to attend in the Houston Independent School District."