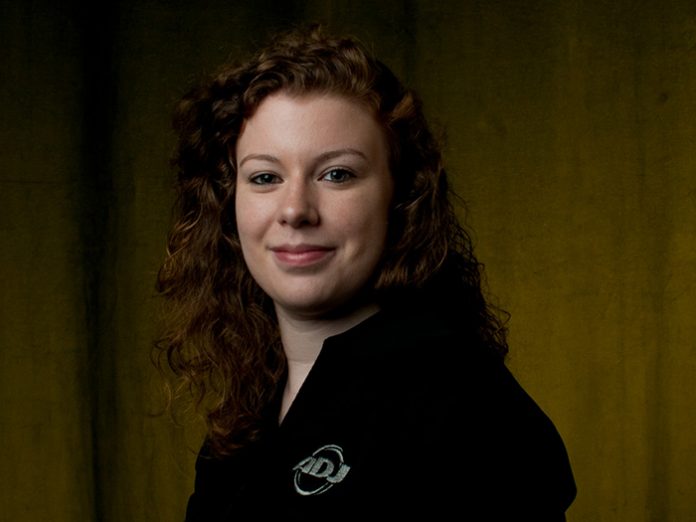 The ADJ Group of Companies has announced the appointment of Charlotte Wester as its new Trade Show Manager. Based out of the group's Los Angeles headquarters, Charlotte will be responsible for the organization of the company's booths at the numerous tradeshows at which it exhibits each year representing its market-leading brands including Elation Professional, ADJ Lighting, Acclaim Lighting, Global Truss America and Avante Audio.
Having grown up in a small town outside of Dallas, TX, Wester attended the Conservatory of Theatre Arts at Webster University in St. Louis, MO. While studying she worked in the Lighting Department of the Repertory Theatre of St. Louis and also as an overhire Theatre Electrician for Local 6. She gained further valuable experience as the Lighting Designer for several shows both in college and the community. After graduating with a BFA in Lighting Design, she moved to California to work for Stage-Tech as a Project Manager, Draftsman and Account Manager. During this time she further expanded her knowledge and experience working on projects with production companies including Live Nation, Trevanna Entertainment and Michael Levitt Productions.
"Trade shows are very important not only for staying in touch with our existing customer base and showcasing our new products but also for introducing our brands to new markets," commented Toby Velazquez, President of the ADJ Group of Companies. "The role of Trade Show Manager is therefore vital for ensuring our continued growth and success, which is why I am very pleased that we have been able to find the ideal candidate for the job. With a strong background in the lighting industry as well as practical project management experience, I am confident that Charlotte will soon become an integral member of our close-knit, professional and passionate staff."
Working collaboratively with the dedicated sales, marketing and technical teams for each company within the group, Wester will be responsible for delivering engaging and effective trade show booths of varying shapes and sizes. These will include flagship exhibitions in established markets as well as new ventures in emerging sectors.
"This is a great group of companies and I am very excited to be a part of it," added Charlotte. "I am looking forward to getting to know and working alongside the team and also taking on all of the challenges offered by this exciting and demanding role. It is a unique position, as it will allow me to work on trade shows for a number of different companies, operating in a variety of markets, but all part of the one group. This diversity in the role appeals to me, as does the opportunity to continue expanding my knowledge of the industry and its various facets."
Founded in 1985, the ADJ Group of companies is a leading worldwide manufacturer of entertainment and architectural lighting, effects, staging and audio equipment. The group includes Elation Professional, ADJ Lighting, Eliminator Lighting, Acclaim Lighting, DuraTruss, Global Truss America, Accu-Cable, American Audio and Avante Audio.