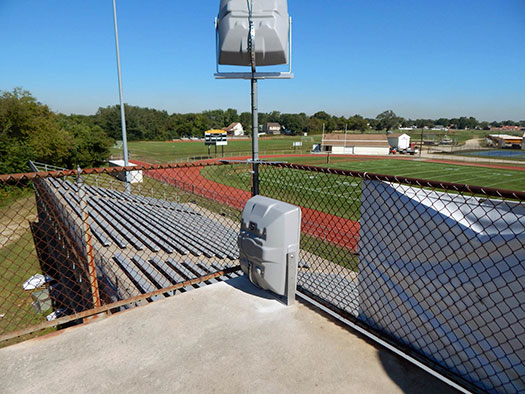 Deptford Township High School serves over 1,000 students in the Philadelphia suburb of Deptford, New Jersey. Its Spartan football team is fiercely competitive and won the state sectional championships back-to-back in 2003 and 2004. However, like so many high schools, Deptford's game-day sound reinforcement system didn't live up to the passion of the team. It fell flat musically and caused fans to strain to hear announcements. Local audio visual integration firm Precision Audio, which just so happens to be headed by two Deptford Township High School alumni, pulled out the old system and replaced it with a Danley Sound Labs design comprised of three Danley OS-80 loudspeakers and two Danley OS-115 subwoofers, all of which are completely impervious to the elements and thus ready for any weather the East Coast can conjure.
"The old system was basically a handful of vintage horns, several of which were blown out," said Ken Longo, Co-Owner of Precision Audio. "We had been working with the school for a while, tuning things up as best we could, but it was always about making the best of a bad situation. The results were never close to satisfying. However, things changed when Danley Sound Labs entered the weatherproof outdoor market with the OS-Series. I had been following the genius of Tom Danley for a while, and when I heard he had developed an outdoor loudspeaker, I knew it had to be great. We did our due diligence though and got a full demo and the Danley OS-Series more than lived up to my expectations."
The home-side bleachers at Deptford are wide and deep, with a small press box perched atop the middle section. Ken drew up plans to cover all those bleachers, plus the smaller visitor side bleachers, with an exploded array of three Danley OS-80 full-range loudspeakers using custom-made mounting hardware. In addition, Longo added two Danley OS-115 subwoofers at each corner of the press box to give the system the kind of deep low end that's more characteristic of collegiate and professional facilities. True to their uncompromising design, the Danley OS-Series boxes will remain outdoors all season long through all kinds of precipitation and temperatures.
Precision Audio also gave Deptford an entirely new front end to support the Danley boxes. Ashly KLR-4000 amplifiers supply the system with over 10,000W of power, and a QSC TouchMix DSP system provides input and output conditioning, along with intuitive user control of input and output levels. "We crossed over the boxes around 120Hz," said Ken. "That achieved an nice balance and allows the subs and tops to work within their optimal ranges. We rolled the whole system off below 40Hz." New Shure wireless and wired microphones round out the list of new gear.
"The guys from Precision Audio were professional and prompt throughout the process of upgrading our sound system," said Melvin Allen, the principal at Deptford. "Our system was years and years old. The guys from Precision Audio came out and were able to identify the right equipment for the job and it's really top-of-the-line stuff. Since the install of the equipment, there have been numerous compliments on the significant improvement in the sound quality we are hearing."
www.danleysoundlabs.com