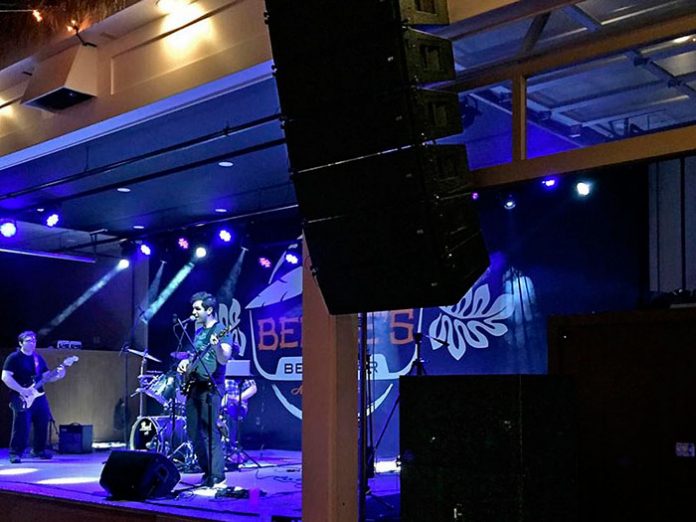 Bernie's Beach Bar encompasses the first two aspects perfectly by being located on a city block's worth of boardwalk space on Hampton Beach and serving patrons its famous Bernie's Rum Runner. When Bernie's Beach Bar tasked RPM Dynamics with the unique mission of permanently installing a touring system that would give the patrons a superb sonic experience, they chose VUE's al-8 Line Array System.
As a Northeast outdoor venue, Bernie's Beach Bar needed a system that not only could cover the multiple listening areas, but also be taken in and out due to the unpredictable weather. Featuring a large rooftop performance space at its heart, the area is flanked by a horseshoe-shaped semi-covered lounge, outdoor bar and eating areas. The semi-permanently installed stereo reinforcement system is flown on either side of the deck. The system's hang points are hidden in custom wood valances, keeping the beach aesthetic intact, yet the al-Class' suspension system is fast and easy to use, and gives the bar the choice to work put the system up and bring it down more like a traditional touring rig.
"The Vue al-8 rig we installed at Bernie's has been nothing short of perfect," says Jim Roese, CEO of RPM Dynamics. "The venue owner, staff, patrons and performing musicians all rave about the clarity and smooth sound the Vue rig offers. We do installs nationwide of every level, this install was special to us because it was right in our backyard. We wanted it to be perfect."
Completing the new Vue system are two arrays of three al-8SB Subwoofer systems each, ground stacked in a directional cardioid configuration. Additional al-4s are suspended from the front proscenium as extreme front-fills to hit the first few rows in front of the stage. The RPM Dynamics installed setup has already been put through a summer's worth of performances by acts such as G-Love & Special Sauce and Zach Deputy.
"Our new Vue line array is amazing," says Al Fleury, owner of Bernie's Beach Bar. "It sets us apart from any venue in the area. Our guests rave about our bands on the new sound system. Impressed doesn't even begin to describe how pleased I am with how everything turned out."
Bernie's Beach Bar looks forward to rolling out its Vue setup next summer as the east coast weather warms up again.