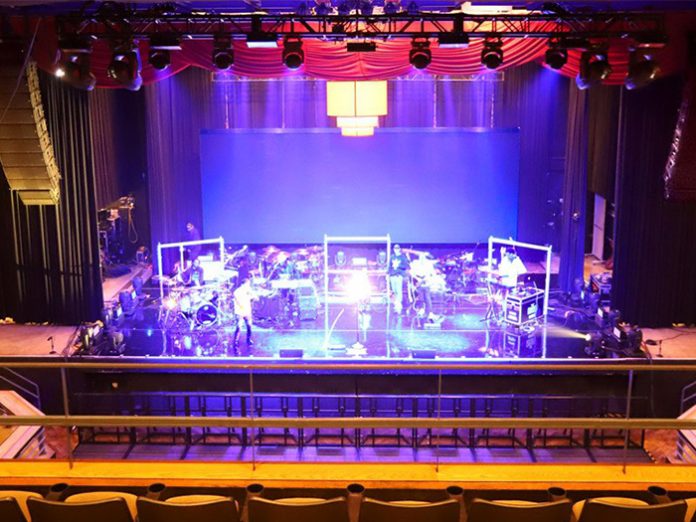 St. Louis' concert nightclub, The Pageant has established itself as one of the country's premier mid-sized venues. When it came time to update The Pageant's aging audio system, FOH and Senior Audio Engineer Randy Noldge turned to VUE to ensure he got it right.
Randy explained: "After we installed the VUE al-8 / al-4 combo array at The Pageant's sister club Del Mar Hall, we were even more convinced that The Pageant had to be next. A few months later, VUE released their full-sized al-12 array and I knew that was our ticket."
Designed from the ground-up to ensure a fully immersive and intimate experience, The Pageant's concert space features dazzling lights, clutter-free sightlines, and a relatively shallow listening area designed to ensure that every concertgoer is never more than 70-feet from the stage.
After a quick call to VUE headquarters, a demo al-12 rig was routed directly from its last stop with Kendrick Lamar. VUE's design team modelled the system using EASE Focus, and within a few hours after arrival, dual 12-element al-12 arrays were flown and ready for action.
The final design takes full advantage of VUE's CST, which allows different al-Class elements to be seamlessly combined for optimal coverage without the sonic disruptions associated with conventional mixed element arrays. The left and right hybrid arrays each consist of ten al-12 elements, with two al-8 elements added for near-field coverage. The unique configuration ensures consistent and uninterrupted delivery of VUE's trademark beryllium voice, near-field coverage across the full width of the stage, and improved sightlines thanks to the smaller elements occupying the lower portion of the main arrays.
"We originally had twelve al-12 elements per side, but the CST technology freed us to get creative," Randy elaborated. "By incorporating a couple al-8 elements into the bottom of each array, we successfully tackled a long-standing coverage challenge at the front of a very wide room. The two arrays are literally 50-feet apart, but with the al-12 and al-8 elements working together, we have a complete left-to-right nearfield soundstage. It sounds absolutely amazing."
Rounding out the rest of the system, Randy added six VUE a-12 full range systems as supplemental fills for the far left and right of the low headroom under-balcony area. VUE a-8 two-way systems provide support for the VIP boxes. A total of eleven VUEDrive V6 Series Systems Engines deliver all power and processing for the arrays, while a Midas Heritage 1000 handles the mix.
For low-frequency support the existing subwoofers were retained, although Randy reported that he intends to upgrade to the VUE h-Class ACM subwoofers as soon as the budget allows. "With well over 113dB at FOH and still no limit light, I'm constantly pulling back the VUE system to keep it from completely burying the subs. I'm really looking forward to adding the VUE subs so that we can really open up the PA and let it free."