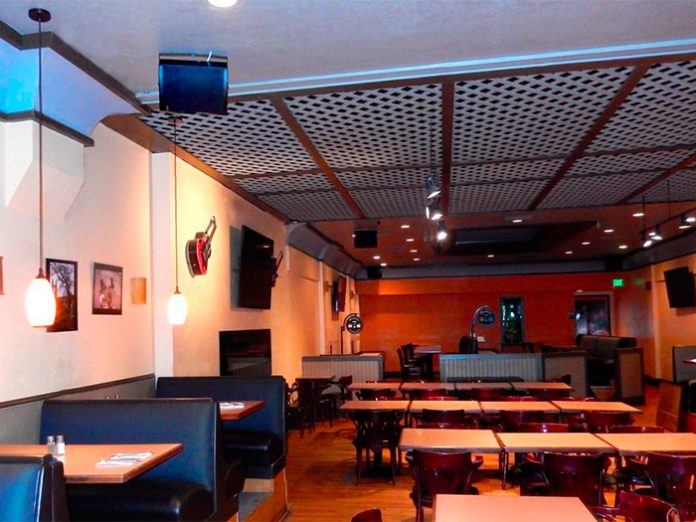 For students at Western Washington University, located about 90 miles north of Seattle, Bellingham Bar and Grill is a treasured favourite. This go-to hotspot offers craft beer, cocktails, food, pool tables, as well as a brand new VUE loudspeaker system from MZW Productions.
"I've been working with this venue for more than 30 years and I've overseen three audio updates in that time," explained MZW President Michael "Woody" Woods. "It's essentially two older storefronts with the dividing wall removed. One side is a restaurant and bar, while the other side offers seven pool tables, shuffleboard, and two massive flat screens."
With relatively low ceilings, the long and narrow adjacent rooms offer abundant reflective surfaces that could be easily intimidating to an uninitiated system designer. But Woody takes it all in stride, drawing on three decades of experience in creating the perfect vibe for Bellingham Bar and Grill patrons.
"For this update, the owner wanted lots of output and plenty of bass," said Woody. "Output was a critical – especially in the low frequencies – but ceiling height was also a concern. We had to hit our SPL goals while keeping hang height to an absolute minimum."
Woody selected a combination of sixteen VUE i-8 two-way systems, with a pair of VUE is-18 subwoofers for low-frequency impact. The subwoofers are located near the bar on the more "rowdy" side of the venue.
The i-8s are ceiling mounted using VUE's standard out-of-the-box hardware. Four stereo pairs run the length of each room. QSC PSD series amps provide all power and processing, with each stereo pair delayed using the amplifiers on board DSP.
"I first heard VUE speakers at a demo a few years ago – I think it was the beryllium h-15 boxes," explained Woody. "I recall being instantly taken back by their fidelity and range. Eventually, I got a pair of VUE i-8s and set them up in my studio next to my Quested VS2108's reference monitors."
Sold on their acoustic abilities, Woody immediately started looking for just the right opportunity to give the VUE speakers a shot in a real-world application. When long-time client and Bellingham Bar and Grill Owner, John Tismouris reached out for another audio refresh in a familiar space, Woody immediately thought of VUE.
"After reviewing their goals, I decided to specify VUE speakers across the board," added Woody. "My biggest fear was how to mount them. Needless to say, I was pleased to find out that VUE ships the i-8s with both U-bracket and half-round mounting hardware right in the box. The U-bracket turned out to the perfect fit –super low profile and easy to use. That simple inclusion really streamlined the whole installation process."
For Woody and the rest of the MZW Team, VUE has officially earned a firm spot on their short list of go-to loudspeaker solutions. "VUE has managed to pack a lot of performance into a small and versatile package. I'm looking forward to using them again and exploring the rest of the line," concluded Woody.