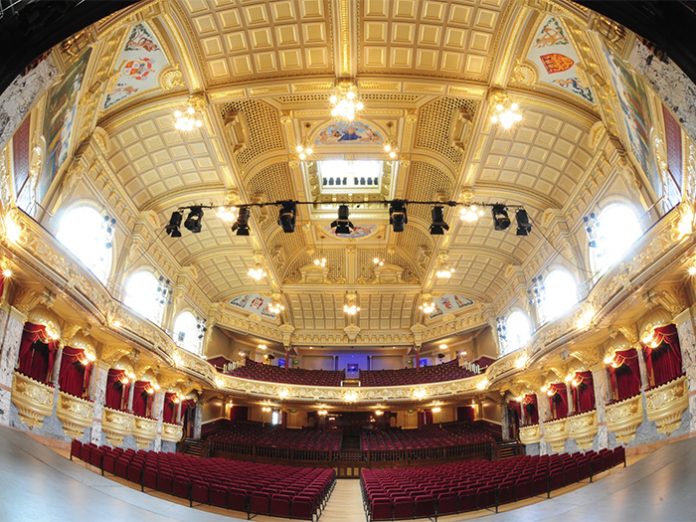 In order to bring Harrogate Convention Centre (HCC) in line with modern standards and expectations, the venue invests in a brand-new audio system with a Symetrix DSP backbone and Dante audio networking supplied by CUK Audio, installed by Acoustic Solutions.
"We clearly needed to replace our old system which was becoming unreliable," explained HCC's Technical Manager, Ross Simpson. "The site has grown considerably over the years and "bolt-on" additions to the existing PA system resulted in a clunky, difficult to assign and often inaudible product. We needed a system that would allow multiple inputs and outputs which were useable at the same time. The site often has multiple tenancy which each require use of a hall's PA in their contracted areas. The PA volume requirements of these multiple tenants differ, so we needed a system that allowed for easy and reactive volume adjustment, and even allowed limited end-user control. Programming of the system for individual client areas and requirements needed to be simple and flexible."
CUK's Stuart Cunningham and Charlie Brown from Acoustic Solutions devised a solution based on two dual-redundant Symetrix Edge DSP processors with 64 bi-directional Dante audio channels each, and Symetrix Dante-enabled analogue input and output expanders to collect, process and distribute audio around the site.
"The site required a flexible system with a high level of future proofing as it is constantly adapting to meet the ever-changing needs of the events and conferencing industry," said Charlie.
"The Symetrix/Dante system was the ideal choice. All areas had to be served with announcements and BGM from multiple sources. We have around 20 input points across the site for microphones and music players. Fortunately, there were existing copper and multimode fibre tie lines running from most key locations so cabling was quite easy. We used a number of CISCO switches with fibre converters to create the DANTE network. A great advantage of the DANTE system is that the venue can also send audio from an event into other areas just by a quick click on the patch screen."
Rob Duerden who handles sales for CUK's installed AV division and was also instrumental in the project summed up: "Audio can now be flexibly routed in and out of each of the exhibition halls, each of which can be configured precisely according to the requirements of the exhibition organisers. Front line staff have floor-level, wireless access to ARC-WEB browser-based control surfaces, connected to the in-house Wi-Fi network, for instantaneous local volume controls. This increased flexibility helps the Convention Centre to provide a tailored service and positive experience for event organisers and their visitors."