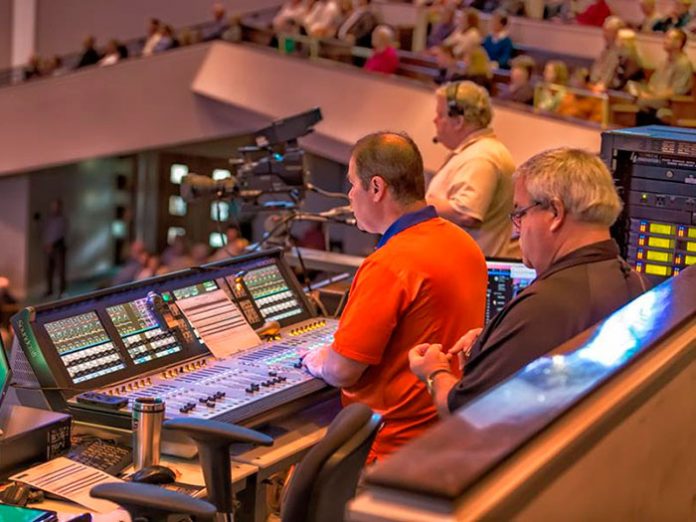 Replacing a 25-year-old sound system can be an enlightening experience, both literally and figuratively. Having taken its old mono PA system as far into the future as it could go, First Baptist Church Hendersonville was ready to provide its growing congregation with an immersive modern worship experience including a state-of-the-art sound system, video and lighting. VUE Audiotechnik loudspeakers and amplifiers were chosen for the upgrade, with installation handled by video and audio consultant/designer Technical Innovation of Nashville, TN.
VUE loudspeaker arrays were installed on either side of the sanctuary, each consisting of ten al-8 High Output Line Array Systems and three al-8SB Flyable Subwoofer Systems flown in a cardioid configuration, for coverage of the main congregation area in the 2,200-capacity room. Eight VUE al-4 Subcompact Line Array Systems were placed on the floor at the lip of the stage, to serve as front fills. The al-4's controlled dispersion pattern (90° horizontal x 10° vertical) enables the front rows of the congregation to clearly hear; the setup's extremely low profile doesn't interfere with sightlines either.
"We had an old mono centre cluster system and at the time of its installation it was intended for use with a vocal mic and a piano," said Ben Swaby, Director of Communications and Information Technology, First Baptist Church Hendersonville. "Since that system was installed, we've grown to the point where we have 170 choir members, a 60-person orchestra and our modern praise band every week. We also host a lot of events, such as the Southern Baptist Convention. We needed an audio system that would help us leap forward. The people at VUE and Technical Innovation were the only ones confident enough to say 'we can do this whole thing by creating a system that produces a stereo image.' That was one of the biggest selling points right up front because we wanted that stereo image due to how much fuller and richer it would sound."
Balancing the al-8's enhanced high-frequency reproduction are low- and mid-frequency drivers developed specifically for use in the al-8. Two eight-inch low-frequency transducers feature three-inch voice coils for increased power handling, while a quartet of four-inch drivers with Kevlar cones and Neodymium magnet structures handle the midrange. VUE's lateral acoustic shade acoustically "moves" the midrange drivers closer together to optimise directivity at their upper operating range for a smooth transition to the HF driver across the entire coverage area.
The antiquated wedge monitors from the old system were replaced with six VUE a-8 Compact Full Range Systems that feature a pentagonal shape appropriate for use in horizontal or vertical orientation. The a-8 is a two-way, passive design with an eight-inch, Neodymium low-frequency driver and a compression driver coupled to a 70×55° rotatable horn. Swaby says the a-8s, while being significantly smaller, "blow away the old wedges" the church had used up to this point. Two a-10 loudspeakers were also installed on each side to cover the balcony stairway area.
"Technical Innovation introduced us to VUE," said Ben. "There were probably about 25 factors we looked for while we were looking into the systems. We wanted clear, accurate reproduction of sound throughout the sanctuary across a wide frequency range. We compared other systems to the VUE speakers and VUE was consistently the best throughout the entire sanctuary. Our sanctuary has a pretty long response time in terms of echo, and without any treatment VUE produced the best response and intelligibility."
Ben added that a deciding factor when picking the system was the high-frequency compression driver in VUE's al-8, which employs its proprietary Truextent beryllium diaphragm. When compared to traditional diaphragm materials, such as aluminium or titanium, beryllium possesses a very high stiffness-to-mass ratio. This characteristic dramatically reduces mechanical deformation or "breakup" of the diaphragm under stress and shifts the diaphragm's resonant frequencies well beyond the audio range. The result is smoother high-frequency response and increased definition even at much higher SPLs than is possible using traditional materials.
"A big goal for us is intelligibility," explained Ben. "If you come in to worship and what you hear is unpleasant to your ears, then you close up as a person. We don't want people shutting down and leaving exhausted because the sound is unpleasant. Many people came to me after the install and said 'I can't recall the last time I remembered a sermon a week later. I don't know what you have done but it has been great. I am retaining the Word and the gospel.' As a church, that is what we want to do."
Ben said the old system would spill sound onto the stage and "our audio guys were getting frustrated. The VUE system we have now is designed to focus on the audience, and is literally honed in on the seating areas. You can actually walk into the aisle and it's dead but then you get into a seat and say, 'Wow, I can really hear it now.' The difference between any seat is less than two dB, which is great."