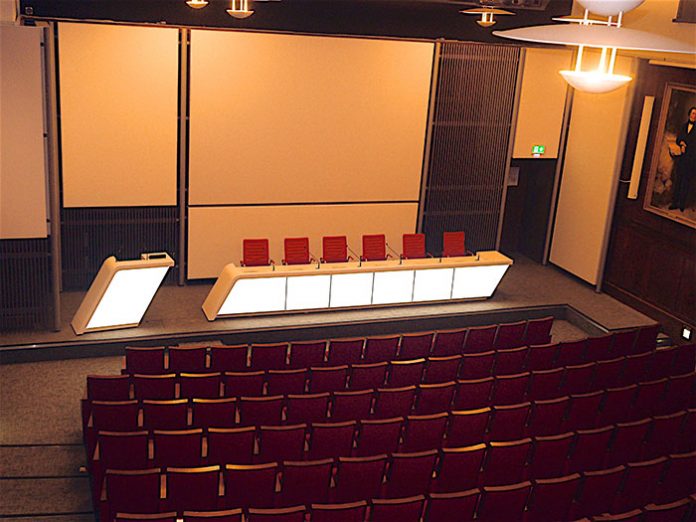 A stone's throw from Big Ben and Buckingham Palace, Number One Birdcage Walk is a storied piece of London history. Regarded as one of the city's architectural gems, the building has been home to the Institution of Mechanical Engineers since opening its doors in 1899. With more than 111,000 members in 140 countries, the Institution connects companies, universities, and think tanks, sharing knowledge and information with government, industry, and the public. The Institute's main lecture theatre was recently treated to a major upgrade of its audio systems with help from Renkus-Heinz and POLARaudio.
As with many majestic older spaces, the hall boasts stunning classic architectural touches including high domed ceilings and soaring hardwood panelled walls. While visually impressive, the resulting acoustics play havoc with intelligibility – not a welcome circumstance for a space devoted largely to spoken word presentations.
Systems Integrator Insight Visual Systems worked together with in-house AV technician Pete Coleman and UK suppliers POLARaudio to create a system that could address the venue's acoustical issues while having minimal impact on its historical aesthetics. POLARaudio Head of Installation Stuart Leader recommended a pair of Renkus-Heinz Iconyx IC16-R-II digitally steered array loudspeakers.
"The existing audio system was operating at its limits," observed Insight Visual Systems Business Development Manager Steve McNally. "Moreover, the system could only be controlled from a balcony at the rear of the hall, making meaningful adjustments virtually impossible. I'd had experience with installing Iconyx speakers during a previous project in a similar environment and was confident that they offered the ideal solution."
"Our existing system was approaching 20 years old, and we endured a constant battle with feedback when trying to achieve usable volume levels," explained Pete Coleman, AV Technician at the Institution. "The old system required constant adjustment throughout an event. The Iconyx system is a lot easier to work with. Once the levels are set and everything's in place that's it, we're free to concentrate on all the other demands of the event."
Iconyx digitally steered arrays enable system designers to create highly directional beams of audio that can be aimed with precision to focus sound directly on the audience and away from walls, ceilings, and other hard, reflective surfaces. The result is a dramatic improvement in clarity and intelligibility that is all but impossible to achieve with conventional point source loudspeakers.
"We've been closely involved with a number of projects centered on the Renkus-Heinz Iconyx range," offered Stuart. "In each case, Iconyx speakers have dramatically improved sound quality and intelligibility in some extremely challenging spaces. Very recently, we were delighted that POLARaudio and Renkus-Heinz were shortlisted in the Team of the Year category at the PSN Europe Awards 2015 for our joint venture at Reading University's Great Hall. Just as with this project at Birdcage Walk, Iconyx speakers on that occasion overcame some very difficult acoustic conditions to the great satisfaction of the client."
At Number One Birdcage Walk, Stuart reported that the results have been equally satisfying. "The system has met with high praise from the client, noting a level of clarity and facility that far exceeded their expectations."