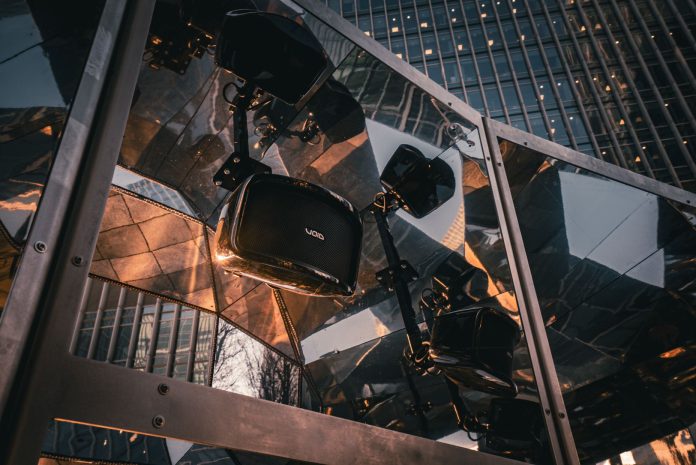 Void Acoustics was associated with Art Designers 'This is Loop' whose large-scale audio-visual sculpture 'Emergence' has recently been shortlisted for a highly prestigious CODAaward. 
'Emergence' is an immersive audio-visual installation which features Void Acoustics' sculpted Cyclone 55 fixture. This weather-protected IP-55-rated speaker was ideal for the artwork, which is predominantly displayed in outside environments.  
Artist Alan Hayes is one of the partners of 'This is Loop' – a collaborative artistic partnership which tours large-scale experiential architectural installations and sculptures to city centres and events across the UK and the world.  
As the creator and architect of 'Emergence', Alan was adamant about his decision to work with Void Acoustics on this particular sculpture. 
The brief was to provide the audio aspect of the installation whilst essentially becoming an integral part of the artwork itself.
Having worked for many years in the events industry, Alan explained that Void Acoustics systems have made a lasting impression on him as one of the highest-quality audio manufacturers in the industry.   
Due to the nature of 'Emergence' as an immersive and playful audio-visual art installation, Alan wanted to specify a sound system which would not only meet their high expectations for the highest quality audio but sought a brand which would have a visual aesthetic which would be in keeping with, and integrate seamlessly into, the art piece itself. 
"We had to consider our audio requirement from an artistic point of view as well as the sonic quality of what we installed.  Everything we did on this project had to reflect the look and the form of the sculpture itself.  Thus, the integration of a high-level aesthetically-pleasing solution, with incredible audio quality was essential."  
With Void's distinguishing fibreglass enclosures, the Cyclone 55 speakers were the obvious choice to meet this brief.  
The installation's structure consists of seventy-five large mirror nodes covered on all surfaces with a mirror finish, arranged in an 11ft tall, 30ft diameter cylindrical pavilion-style structure. 
'Emergence' features a mesmerising and highly complex array of light patterns and visual illusions choreographed to an accompanying audio track.   
"Due to the cylindrical size and shape of the structure we were creating, we needed a wide dispersion to enable the speakers to properly fill the space," explains Alan. "And with their integrated cable glands, and the 110° horizontal dispersion, the Cyclone 55s were a perfect match." 
Alan and his team have been thrilled with the result, stating that the Void Acoustics system has performed faultlessly on every install, delivering perfect sound quality.  
"Void Acoustics delivers an unparalleled combination of audio excellence with high-level aesthetic design qualities. There is just no one else out there who is combining these two attributes. Simply put, Void Acoustics was the only choice for us."  
First seen in Canary Wharf in London earlier this year, the sculpture is now one of the shortlisted artworks to receive one of the internationally acclaimed CODAawards Top 100.
These awards celebrate projects from around the world which most successfully integrate art into interior, architectural, or public spaces.