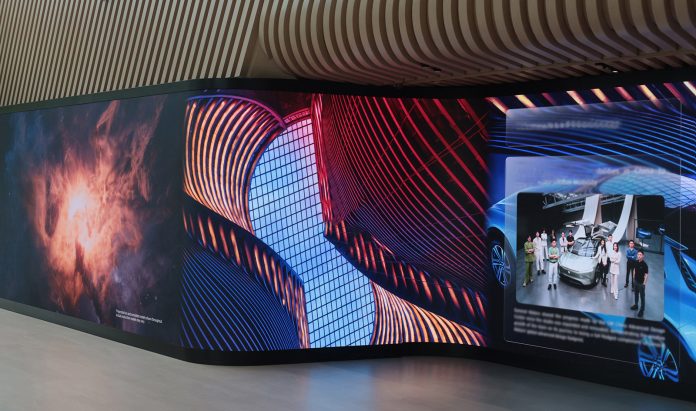 Christie has announced that its award-winning Pandoras Box Software is powering three large LED video walls in the lobby of the corporate headquarters of an American carmaker in Shanghai.
Christie Pandoras Box Software was chosen for its powerful yet cost-effective playback and show control capabilities.
It combines professional features in a high-performance and budget-friendly platform ideal for various fixed-install applications, including corporate lobbies and experience centres.
The software was installed by Christie's trusted partner, Marvel Vision, which has extensive knowledge and experience in the delivery of amazing visual experiences using Christie Pandoras Box.
"We are excited to collaborate with an automobile manufacturer to deploy Christie Pandoras Box Software in its contemporary corporate lobby," said Daniel Xu, representative of Marvel Vision.
"With its real-time video processing and show control capabilities, Pandoras Box has provided us with a robust and economical solution for this venue.
"It has greatly elevated the visual impact and efficiency of the corporate lobby, creating a mesmerising environment that leaves a lasting impression on employees and visitors alike."
Sixteen licenses of Christie Pandoras Box Software have been utilised in the corporate lobby, which showcase the software's enhanced features such as point-to-point display and soft edge special effects.
Customised hardware solutions, including the use of video capture cards, have been implemented to ensure the highest level of performance.
For the first LED display, a combination of three client licenses and a master license for Pandoras Box Software has been employed.
This setup, boasting over 10,000 horizontal pixels, combines both hard and flexible screens that elevate the visual experience through the application of various special effects offered by Pandoras Box Software, which is capable of showcasing fine details, vibrant colours, and smooth gradients, bringing visuals to life with stunning realism.
The second screen, set in portrait mode, utilises three Pandoras Box Software licences to deliver an impressive resolution of 2,736 by 5,472 pixels. This high-resolution display enables intricate and lifelike representations of content.
Additionally, the main screen, driven by a single Pandoras Box Software licence, features 4K UHD resolution at 3,840 by 2,160 pixels, ensuring a visually captivating and impactful presentation.
Together, this comprehensive setup incorporates Pandoras Box Software, customised hardware solutions, and thoughtfully designed LED displays, resulting in a compelling and immersive visual experience.
April Qin, senior sales director for China, Enterprise, Christie, commented: "We are thrilled to see how Christie Pandoras Box Software has transformed the visitor and employee experience in the carmaker's corporate lobby in Shanghai.
The advanced features and exceptional performance of Pandoras Box Software have allowed us to create a visually stunning environment with high-resolution imagery. This comprehensive solution showcases our commitment to delivering immersive and impactful visual experiences for our clients."
Christie Pandoras Box Software is the ideal software solution for multimedia requirements. Whether working on fixed install applications, live corporate events, or architectural and artistic installations, Pandoras Box Software integrates advanced functionalities into a platform that excels in performance and affordability.
Version 8 bundles all existing features with exciting new developments. The entire feature set includes NDI, SDVoE (Software Defined Video over Ethernet), Dante (Digital Audio Network Through Ethernet), and Notch. Outstanding AV experiences can be created, or efficiency can be enhanced, with everything it has to offer.