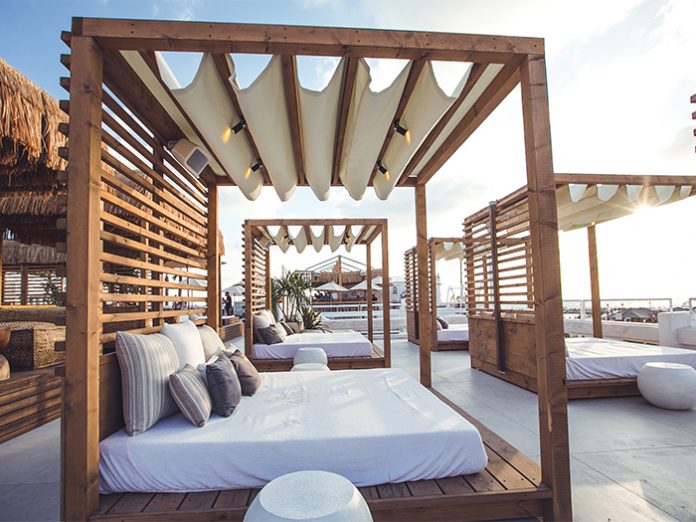 Atzmaut Beach (AKA Hilton Beach) is a popular destination for the young local surfing community and tourists (in more regular times) alike, and boasts plenty of bars and restaurants to frequent. But few are more luxurious than beach bar Hilton Bay Absolut Beach & Surf. And with luxury comes a high-end audio installation courtesy of Void Acoustics and exclusive Israeli Void Acoustics distributor – New Audio Pro.
Established in 2018, Hilton Bay Beach & Surf quickly became a major attraction on Tel Aviv's fashionable beachfront. It occupies 300 square metres of prime seafront real estate immediately in front of (but not connected with) the sumptuous Hilton Hotel. The venue has recently been transformed with a complete refurbishment from the structure itself, down to the soft furnishings. And front and centre of this transformation has been the deployment of a new Void Acoustics sound system.
Hilton Bay Absolut Beach & Surf is owned by Ronen Miley – a local nightlife entrepreneur of over 25 years' experience. He is clear why he chose Void as part of this major refurbishment. "These days our customers are looking for a pleasant, absorbing level of sound. Void Acoustics has created a breakthrough in audio systems with speakers that are suitable for both party and beach environments, and bring a combination of stunning aesthetics and super amazing sound quality. This allows us to manage the vibe in the venue and the type of energy we want to create, depending on the time of day, the event, the music the DJ is playing…anything really!"
The day/night venue offers guests the chance to chill and relax on the beach in a stylish setting, with a restaurant and bar that transform seamlessly from a lazy beach day vibe to cocktail and party night-time. Needless to say, music plays a central part in the transformation of the atmosphere from day to night and so the audio system needed to be robust and adaptable to these changes, as well as the outdoor environment.
The team at New Audio Pro saw a collaboration between Yossi Edri, Audio Pro Technical Manager, Dudu Dahan, Installation Project Manager, and Pro Sound division sales manager Alon Laski. Together they specified and installed the entire AV system, including the Void system for Ronen. With depth knowledge of Void Acoustic products, the team designed the specification incorporating the product preferences indicated by Ronen who was clear on the look and the feel that he wanted to achieve for his venue.
The brief was to design an altogether different experience from the average beach bar, complementing the private rooftop and lower floor spaces, and providing a haven for solo beach goers or groups equally, with a vibe to match those of famous beach resorts in Ibiza, Mykonos in Greece or Tulum in Mexico. As well as wanting the Void speakers to 'look good', a key requirement for the audio installation was the fact that the venue is completely open to the elements and with the close proximity to the sea, all products needed to be IP-rated and weatherproof.
Central to the Void specification are Cyclone 8, Cyclone 10, Cyclone 55 and Cyclone Bass speakers – all in weather-protected white fibreglass enclosures and perfect for interior and exterior use with an IP-55 rating. These were complemented by Air 8s from Void's Air Series, and often seen in high-end venues. Supported by Arcline 118 subwoofers, although more commonly used in touring applications, but perfect to provide a subwoofer aspect for a permanent installation such as Hilton Bay Absolut Beach & Surf. Additional fill was provided by the robust Venu 12, with the overall system being supported by the lightweight, four channel Bias Q2 amplifier and fully integrated D1 signal processor.
A major installation of this type, in the midst of summer as well as a pandemic was no mean feat, and Josh Pearce, EMEA Regional Account Manager for Void Acoustics is realistic about how the pandemic has impacted projects specified during lockdown. "Time-scales just became more challenging during this time" he admits. "There is always a sense of urgency when a project gets the green light and the pressures of delivering in a timely manner. Especially with something as fundamental as a sound system. With the pandemic this pressure increased – mainly because venues were closed for a long time, but then able to re-open again on short notice. Thankfully we were able to deliver on time, and in budget."
Josh acknowledges that Void has an extremely strong distributor in New Audio Pro and "has nothing but praise for their patience, support and passion for the Void Acoustics brand," which enabled a seamless install in a difficult worldwide situation. "We always look forward to working with the team at New Audio Pro and are excited about what projects they bring to the table next."