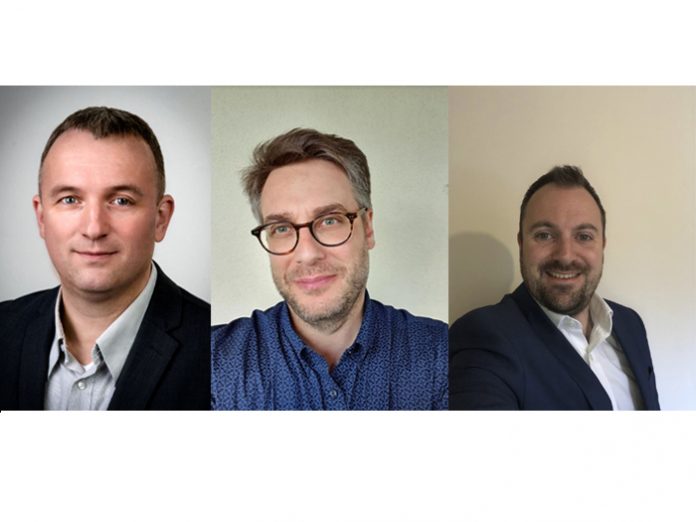 Vivitek has announced three new sales hires in response to increasing demand for its solutions across EMEA. The new team members include Tom Simpson (based in the UK), Lutz Nordbrock (based in Germany) and Cyril Marc (based in France). All of their appointments are effective immediately.
Tom joins Vivitek as a Key Account Manager. Previously, he held roles at reputable AV/IT distributors, where he gained considerable knowledge of the AV industry as well as Vivitek's extensive AV portfolio. This, combined with his excellent insight into the needs and demands of the market, means he will be able to accelerate the pace at which he develops Vivitek's dealer network in the UK, with a focus on increasing market share for Vivitek's Large Venue solutions business.
Lutz Nordbrock has been appointed to the position of Field Sales Engineer for Large Venue and VideoWall solutions. Lutz has many years' experience in the AV industry, working for different AV brands, where he gained immense product and market knowledge of projectors, monitors, LED walls and cube solutions. Thanks to his technical education and considerable sales experience, Lutz will play an invaluable role in expanding Vivitek's dealer network and sales success in Germany.
Cyril Marc joins Vivitek as a Key Account Manager, from previously working at a renowned AV dealer. As such, he has exceptional knowledge of Vivitek and Delta's AV products and solutions. Additionally, he has worked closely with several other major AV integrators in France and he brings both solid technical knowledge and a global understanding of the market to Vivitek. Cyril will put his experience to good use at Vivitek by applying it to the Large Venue market, as well as focusing on driving further success for Delta's Display Solutions.
Commenting on the new hires, Holger Graeff, General Manager, Vivitek EMEA, said: "We're thrilled to see the increasing demand that Vivitek's enjoying across EMEA. We're confident that Tom's, Lutz's and Cyril's appointments, will play a vital role in responding to the interest we're seeing in Vivitek's solutions. Their technical, market and product knowledge means they're valuable additions to our existing team, and we're confident that they will help the organisation go from strength to strength in 2019 and beyond."