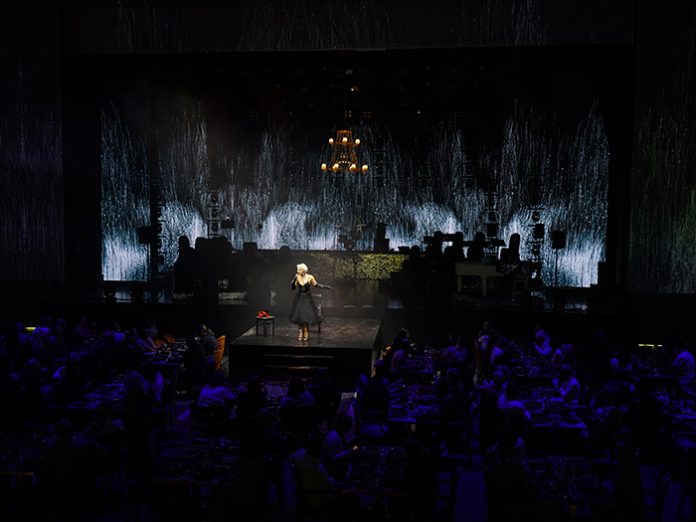 A mix of VIOSO technology, including the company's newly launched VIOSO 6 projection software, is at the heart of an innovative, high-end new 'dinner theatre' in Mediterranean Turkey.
Part of the Nirvana Cosmopolitan resort in Antalya's district of Muratpaşa on Turkey's south coast, Cosmos Performance & City Hall combines fine dining and immersive entertainment to offer patrons what it describes as a "unique synthesis of art, gastronomy, entertainment and technology".
After enjoying a four-course meal incorporating gourmet flavours from around the world, as well as cocktails from the on-site Cosmopolitan Bar, guests experience a one-and-a-half-hour immersive show incorporating stylish choreography, a futuristic stage set, and striking 3D visuals courtesy of a 30-projector, multi-camera AV set-up integrated by major local player Atempo Group.
Key to the installation are four VIOSO Anystation Media Octo servers, which handle media playback, along with a PIXERA director licence to handle previsualisation. The servers are calibrated with Pixera VIOSO and VIOSO 6 SIM, the latest version of VIOSO's advanced projection software, which draws on the company's patented auto-alignment technology to create perfect warp and blend scenarios in any multi-projector project.
Thirty 20,000-lumen NEC projectors, four cameras (one for each wall and ceiling), and an 8K LED videowall on stage complete the picture.
The brainchild of well-known director Igor Rudnik, Cosmos Performance & City Hall's current show, Andy, is a kaleidoscopic journey through the universe that combines a heartfelt story with visual spectacle, mixing live entertainment with 3D projection effects. Club Cosmos then offers an afterparty opportunity for night owls until 3am.
Ozan Ayaz, from Atempo, says the experience desired by the end user relies on the ability to have video projected on the ceiling and walls alongside the onstage AVL. For easy control over the demanding multi-projector set-up that makes this kind of immersion possible, VIOSO 6 was the natural choice, he adds.
In addition to providing the media server muscle for the installation, VIOSO joined Atempo and the end client on site to provide training on PIXERA and VIOSO 6.
"We are proud that VIOSO hardware and software are helping to bring this prestigious project, the first multi-purpose entertainment venue in Muratpaşa, to life," commented Hamdi Yanik, VIOSO's sales agent in Turkey. "The successful launch of Cosmos Performance & City Hall is a testament to the hard work of everyone involved and we're excited to see what the future has in store."