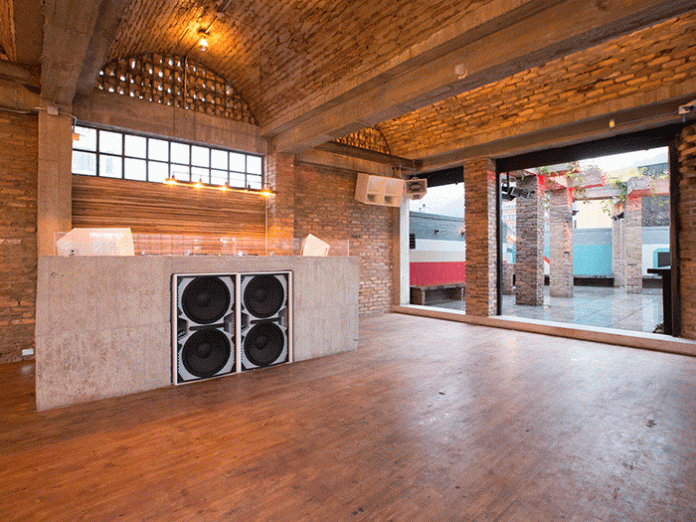 Video Club in Colombia's capital, Bogotà, is a symbol of the city's vibrant electronic music scene. Though the city and its audiences regularly attract artists from around the world, it has come up a little short in terms of venues that can properly host higher profile events. That was until Video Club's owners came along with their objective of creating a 'sensory experience like no other'. The venue is now home to the country's first ever fixed installation Funktion-One sound system, which was supplied and installed by UVA Funktion-One (Colombia), working in collaboration with Purpura Producciones (Chile).  
Funktion-One was born out of a want for heightened sensory experiences. Since the company started in 1992, it has consistently developed loudspeakers that produce their output by natural means, at source, rather than through manipulation of the audio signal. The result is responsive sound, very low distortion and plenty of dynamic headroom.
Video Club's sound design was carried out by Funktion-One design engineer, Mike Igglesden, and approved by company founder, Tony Andrews.
The system in the main room features four Funktion-One Resolution 2 SH mid-high speakers, plus a pair of F215 double-15in bass enclosures and two BR221 double-21in bass reflex speakers. Two F1201 speakers and a BR118 serve as DJ monitors. Amplification comes from two FFA F60Q amplifiers and an FFA F100-2.
Audio in the second room is delivered by four F1201 speakers and two F118 single-18in bass enclosures, which are powered by an FFA F60Q amplifier. There is further sound reinforcement in the reception area. This area features four Funktion-One F55 speakers and an MB210LP low-profile bass enclosure. Control throughout the venue is managed by a Formula Sound ZMR-8024 system.
All three systems are four-point, with a crossed stereo configuration, and are suspended at 2.5m with a variation of less than 1%.
Discussing the project, UVA's John Bermudez explained: "As this was Colombia's first fixed installation Funktion-One system, there were quite a few challenges. The import procedures to Colombia, for one, are not easy and threatened to derail our intended opening date.
"Time was short but we managed to install three different systems in 10 days. Another challenge for a nascent market like the one in Colombia is the evangelising necessary in order to convince clients to invest in a professional system such as Funktion-One. In Colombia, investors will happily fork out inordinate amounts of money for lamps and chairs but getting the investment necessary for a world-class sound system can be difficult."
The investment by Video Club's owners and their commitment to creating a sensory experience like no other has paid off. John continued: "The response has been overwhelmingly positive. The clients are satisfied with their investment and the venue is fast gaining recognition for its emphasis on a superior sound quality. The system is transparent, energetic and faithful."
John's business partner, Laurie Sauloy concluded by adding the following: "For us at UVA, after years working towards developing a culture for refined listening experiences, it is a great moment to be able to install a dance floor while applying the rules of the art: a place to expand your senses, free yourself from the daily grind and even to achieve communion with other revellers.
"Today, after four years here in Colombia, there are many thousands of people who recognise Funktion-One as a sound system capable of generating an intense physical experience, which is at the same time mellow on the ears, with ample spatiality and precision. Once they experience Funktion-One they wont settle for less."