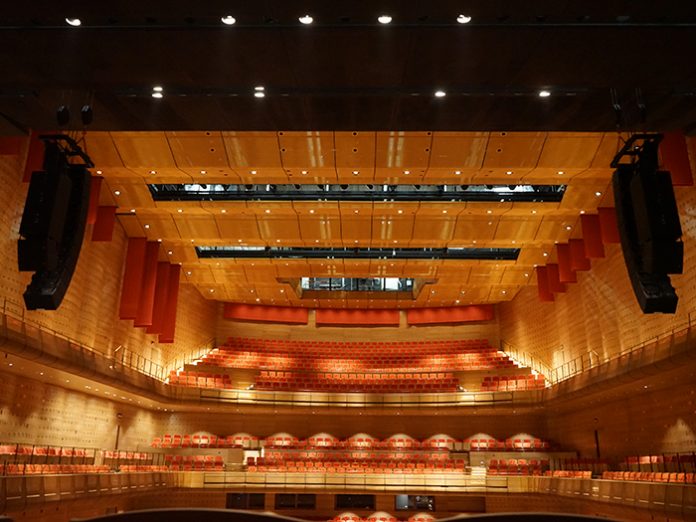 Few classical concert halls are as grand or as well-equipped as the Queen Elisabeth Hall (QEH), and its accompanying congress centre in Antwerp, Belgium. Having recently reopened its doors after a multi-year development program, the renowned home of the Royal Flemish Philharmonic has been equipped with state-of-the-art audio, video and lighting systems. Fundamental to the success of the ambitious project were the efforts of Belgium-based, full-service AV provider and integrator FACE, who selected a roll-call of market-leading brands. For the audio portion of the project, that meant turning to Renkus-Heinz for its beam steering expertise, with more than 70 loudspeakers now installed in the venue.
Multiple spaces in the complex – which is known collectively as Elisabeth Center Antwerp – were worked on by the FACE team, but none were more demanding than the 2,000 seat Queen Elisabeth Hall. The multi-purpose room was the subject of a comprehensive overhaul designed to improve its acoustics, and as a result FACE worked closely with design company Charcoalblue and acoustic specialists Kirkegaard Associates to ensure an optimum experience at every seat in the house.
FACE's Project Division Manager Steven Kemland says that one of the overriding objectives was "for QEH to be regarded as one of Europe's leading concert halls – so it stands to reason that the loudspeaker system had to be superlative." Renkus-Heinz was a "brand that we had long trusted for its quality and consistency, as well as its ability to provide a product for any application you can think of."
Careful consideration of the room's acoustical properties and coverage issues led to the specification of a 22-box primary left/right array comprising Renkus-Heinz VARIAi Modular Installation Array Systems. Powerful low-frequency woofers, lightweight neodymium compression drivers, and optimum ease of vertical control are among the primary benefits of the VARIAi boxes, which also feature advanced cabinet and waveguide designs.
The left and right arrays further comprise flown VAX15 subs and conventional RHX81 speakers for the side balconies, ensuring 270° audio coverage for each cluster. "The Renkus-Heinz team really helped us deliver the best possible result, drawing up the original EASE design and undertaking the first simulations for the placement of the speakers in cooperation with FACE," praises Kemland.
Renkus-Heinz is also well-represented elsewhere in the venue. A total of 26 customised CFX41 stair step speakers – positioned in three rows – accommodate different stage configurations, while DRS218 subs, RHX101 speakers and VAX101 array modules handle mobile infill and upper balcony delay duties. There is also an integrated speech system, based around ICONYX IC24 and IC8 speakers, for the side balconies and choir wagon.
Having officially opened in late 2016, the concert hall is now confidently looking forward to a busy and diverse schedule ranging between orchestral performances and dates by German electro-pop pioneers Kraftwerk. Easily handling the dramatic shifts in tone, the 70-box Renkus-Heinz system, adds Kemland, is already a much-loved part of the venue's fabric: "As expected, the system has been performing brilliantly, and the feedback we have received from the venue has been superb."