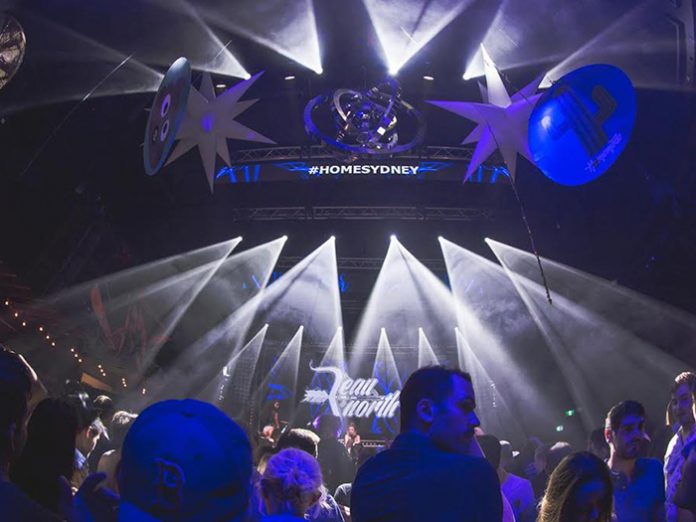 Located on Cocktail Bay overlooking Darling Harbour, Home is Sydney's only true superclub. Built in the late nineties, the club features over three levels of purpose-built clubbing space. With a capacity of 2100, the venue is one of the largest in the southern hemisphere.
Incorporating innovative creative design and with four venue areas, including a luxurious rooftop terrace, featuring both indoor and outdoor areas, Home lends itself perfectly to all aspects of entertaining. The club owners recently decided it was time for a renovation of the venue's lighting and turned to Show Technology, Australia & New Zealand's number one professional lighting distributor, for advice.
Darcy Cook, production designer at the club, worked closely with Show Technology's Business Development Manager Stephen Dallimore who said, "The design of Home lends itself more to a New York warehouse vibe, incorporating some fantastic street art work by local artist Lister, rather than a modern nightclub. So it was important to look at suitable options that would compliment the space and allow the team to work across different clients, from clubbers to corporate functions, who are attracted to its location on Sydney's famous Darling Harbour".
A world class venue requires world class lighting and so the decision was made to go with Martin and MA Lighting as the latest in technology. Darcy was keen for all the lighting to be LED for cost effectiveness, low maintenance and ecological reasons.
"I put the idea to the Susanah Page, the owner, and Ash Kollmorgan, the licensee, and after several meetings and consultations, including Rob Hardy the venue's production manager, they decided to go for it," commented Darcy. "I replaced the rig, more or less, one for one with a few new additions. We had eighteen old profile movers in there and I thought that amount gave us good coverage, so I stuck with that configuration."
First choice was the Martin MAC Quantum Profile, an extremely bright LED profile fixture combining top-quality white light with a fast, smooth CMY colour mixing system and crisp gobo projection on surfaces as well as mid-air. It also features the new Animotion FX system that allows never-before seen beam animations.
"I was incredibly impressed by the MAC Quantum Profile's optics, the sharpness of the gobos, the brightness and the colour rendering index," said Darcy. "The way the colour system works is very impressive; you get a really nice blue, green and red out of them plus ultra-sharp gobos across the very wide zoom range that they have."
Darcy reports that the eighteen MAC Quantum Profiles have been performing extremely well since their installation with absolutely no issues at all. He noted that they are doing well across the three different styles of lighting that the club requires. Friday is trance night with lots of gobos, clever effects and bright lights. Saturday night is party mode with lots of colour and colour effects – this is when the Quantum's colour mixing system delivers an almost unlimited range of colour effects. Sunday is darker and smokey, and again the Quantums nail this style of lighting.
Six Martin RUSH MH6, offering a fully pre-mixed colour system from 12 x 10 W RGBW LEDs with a spectacular 10°–60° zoom, were installed primarily to act as stage light for the dancers onstage and live acts.
"As a stage wash, they put out a really nice CTO," remarked Darcy. "We also use them to light up the venue when we want a nice room wash and they're good at that too because of the enormous zoom range that they have. We can paint the room in pretty much any colour." Four Martin Atomic 3000 LED strobes, delivering a perfect blend of a traditional strobe and cutting-edge LED technology, were also chosen with Darcy describing them as incredible.
"We have to run them at 30% otherwise they'd be too bright," he laughed. "They are insane! I can't wait to use them on a big arena show. The Aura effect is cool, you can do some subtle colour effects using the strobe of which I'm quite a fan."
Ten ShowPro LED Sunstrips were supplied as moveable eye-candy and are currently 'outlining' the room's central screen adding a theatrical element to the venue. Four ShowPro X-Blinders were selected as a substitute for the standard DWE Blinder and Darcy reports that they have been well received.
"They have the nice warm colour temperature you'd expect plus they have the ability to fade out on a flash so they act like a real Duet," he added.
For control, Darcy recommended a MA Lighting MA2 light saying it is the standard console amongst the electronic dance music industry.
"I rarely see any other console used," he said. "The power of what the MA2 can do and how you can operate is astounding. You can use them in so many different ways. Added bonuses are features such as 'speed groups' which is important for the dance scene where you need lights moving and chasing to the beat of the music. I've been an MA user for around five years – in fact I bought one myself! All three major clubs in Sydney run MA, it's the only console to go with really."
The venue plans to attract high profile acts and in choosing MAC Quantums and MA Lighting control, they believe the ability to provide industry standard equipment will be a massive drawcard.
"Just over three years ago, Sydney introduced the "lock out law" that saw venues not allow entry after 1:30am nor the serving of drinks past 3am, which has seen a number of venues sadly close their doors," Stephen Dallimore said. "This was a sizeable investment by the team at Home in uncertain times but they are already seeing the results of the upgrade and using industry specified fixtures is great. To be working with them on their new chapter has been awesome."
Show Technology offers lighting solutions for entertainment and architectural applications through a select network of partners around Australia and New Zealand. The company imports and distributes equipment from the world's leading manufacturers of dynamic lighting, lighting control systems and associated equipment, exclusively for sale in Australia and New Zealand.