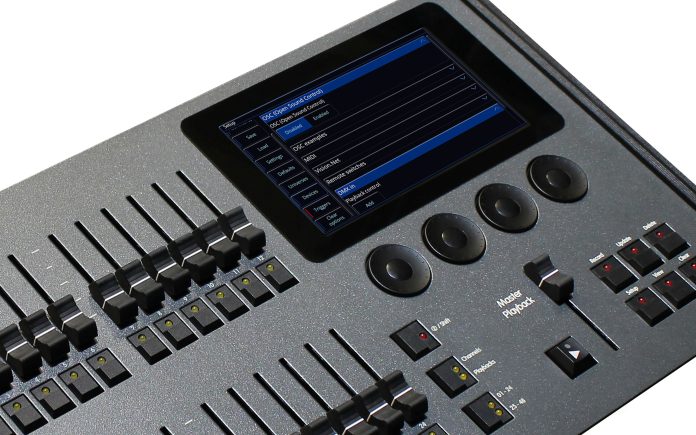 Vari-Lite has announced the ZerOS 7.14 update for its FLX Series consoles, an update which includes support for Open Sound Control (OSC), RS485-based Vision.Net and DMX Input.
"In small to medium-sized applications, where ZerOS-based consoles are most often found, users need multiple ways to adjust their lighting system quickly and easily," said Jon Hole, Global Product Manager, Vari-Lite Systems and Control at Signify.
"In addition, non-traditional entertainment lighting applications in theme parks, conferences and breakout rooms, museums, etc., need ways to trigger lighting effects in sync with the rest of the production. That's why ZerOS 7.14 includes several new features designed to make it easier to control your lighting system without ever touching the console."
The OSC input support in ZerOS 7.14 allows ZerOS-based consoles like the FLX Console, FLX S Series, and ZerOS Server to receive OSC commands from other devices and software that support the popular third-party control protocol. The update allows users to integrate their lighting control into OSC-controlled systems for architainment, theme parks and automated theatre applications.
"Support for industry standards such as OSC, GDTF and CITP is part of Vari-Lite's sustainability strategy," explained Hole, "ensuring our products work with more devices for longer periods, reducing waste."
Vari-Lite is also expanding its support for the Vision.Net platform within ZerOS, adding RS485 alongside its existing IP-based Vision.Net support. With support for Vision.Net RS485, users can utilise one of the FLX Series console's onboard DMX ports to receive Vision.Net commands from Vari-Lite Vision.Net Button Stations or Touchscreens.
The addition of inbound DMX offers similar support for other DMX control devices in the system, such as stage manager stations. Both capabilities allow users to recall lighting cues or adjust the lighting remotely.
ZerOS 7.14 also adds several new updates that make macros in ZerOS more intuitive and flexible, with more available macros and easier ways to trigger them.
"The ZerOS platform remains a key component of Vari-Lite's strategy for small and midsized applications," added Hole, "and future updates to the software are in active development."