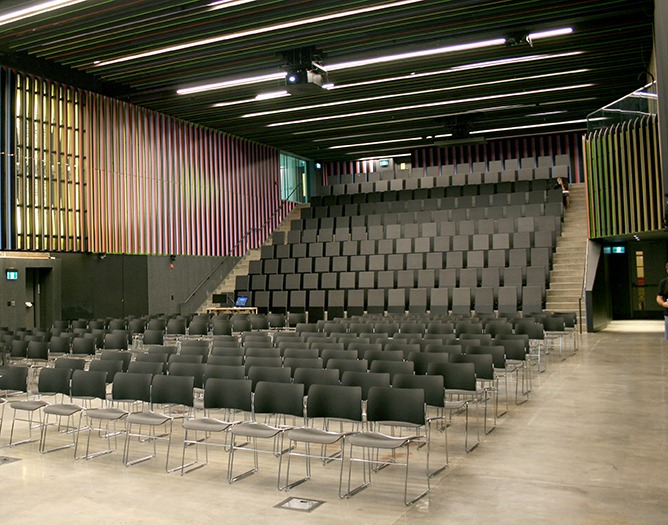 University of Toronto's newly constructed Principal Hall is designed to serve as a multi-dimensional public platform for the John H. Daniels Faculty of Architecture, Landscape and Design.
To ensure the highest quality of audio, the University tapped Mulvey & Banani Audio Visual Inc to assist in the design of a sound reinforcement system consisting of EM Acoustics loudspeakers. With seating for 400 people, the design of the hall allows for multiple configurations and uses, ensuring maximum utility for students and faculty, and greater flexibility for a wide range of events.
"The compact size and audio quality of EM Acoustics loudspeakers was a driving factor in deciding to use them at Principal Hall," explained Gregory Rushton, Vice President, MBAV. "The loudspeakers were required to fit into five-inch spaces between wood slats covering a 30ft high ceiling. The challenge was to find something small enough that would still have the power to cover the room. Contact Distribution suggested the EMS-51, and it was perfect."
Ontario-based, Contact Distribution was quick to demonstrate that the EMS-51 was an exceptional speaker that had studio monitor level quality and high-power handling in a very small enclosure. The loudspeaker is loaded with a five-inch LF drive unit, linked via the internal passive crossover network to a 1.1-inch diaphragm, HF soft dome drive unit, which produces a 75° conical dispersion pattern. The infinite baffle design provides a smooth LF roll off and a much more robust LF performance than would be expected from similarly sized loudspeakers.
"Our priority was overall sound performance," said Maxim Batourine, director, technology services, University of Toronto. "We found that the combination of EM Acoustics and Linea Research amplifiers was a perfect balance of power and sound clarity. The narrow, conical dispersion allowed the loudspeakers' density to be high while letting us balance sound levels at the floor level efficiently."
Gregory specified 36 EMS-51 loudspeakers to cover Principal Hall. The space, which can be divided into three separate rooms, was equipped with a total of 18 zones that can be used together or individually. The first and second rooms are similar in size with flat seating areas – each room is equipped with eight EMS-51 loudspeakers. The third room, which is larger and features raked seating, utilises 16 EMS-51 loudspeakers. The loudspeakers in each space were distributed throughout the zones so that the audio orientation of the rooms can be changed as needed while still maintaining a stereo image.
"Coupling the EMS-51 with the factory recommended Linea Research 88C10 10K watt, 8 channel amps gave us the pristine power we needed as well as the internal DSP to do the eq, delay matrix and various configuration presets for the multitude of room configurations," added Maxim. "We are pleased that everybody that's heard the system is quick to comment on its very high fidelity."
"Everything was optimised for voice and general programming," concluded Gregory. "The result is clean, even, coverage and pristine audio intelligibility – something important in a learning/lecture environment, and exactly what the University required."