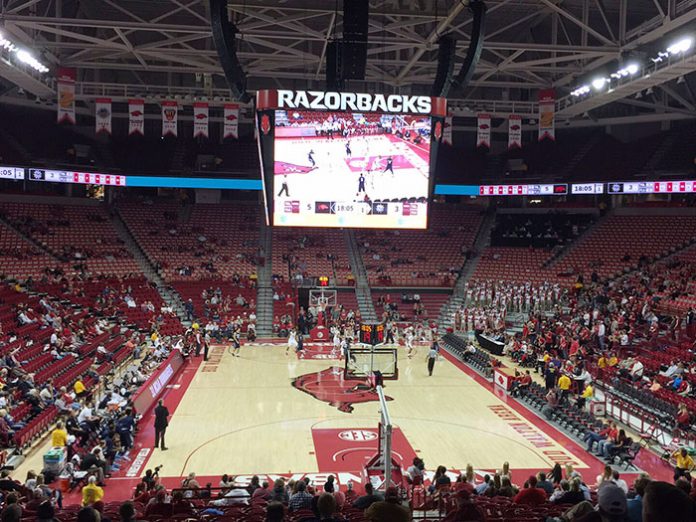 The University of Arkansas Razorbacks basketball team recently benefited from a new EAW sound reinforcement system installed for the 2015/16 season. The existing system at the 19,200-seat venue was more than 20 years old and in need of replacement. After deciding to upgrade the audio, the university tapped Wrightson, Johnson, Haddon and Williams (WJHW) to design the new system, which was installed by Clair Solutions.
Scott Bray, WJHW Consultant further explained the process: "The previous system was no longer adequate for the events held in the arena. The administration wanted sound-reinforcement that was musical and would bring the game day experience up to fan's expectations. They also installed a new scoreboard during the upgrade for similar reasons."
One of the design goals was for the PA to fit above the new scoreboard, keeping sightlines clear. To this end, Scott specified six EAW line arrays – each made up of 12 KF730 modules – to hang in a circle above the center court scoreboard. Scoreboard court fill was delivered by 10 EAW MK5366i speakers. Two more arrays consisting of eight SB2001 subwoofers each, were hung tight to the ceiling and facing each other for low end support.
Scott added that he and his team time-aligned the subwoofer steering to bring the overall lobe down into the bowl area," he adds. The reason being was because they had a center-point of origination and the sound was incredibly smooth with excellent low-end coverage, which was a pleasing end result.
With the lower seating area covered, Scott designed a distributed, zoned system made up of more EAW MK5366i loudspeakers. Each of the loudspeakers are assigned individual DSP and amplifier channels adding tremendous flexibility to the system design. Depending upon how the arena is being used, certain zones are turned on or off, or groups can be muted as needed.
Scott continued with the following: "One of the major events held at the arena is the Walmart shareholders meeting. The new system took their audio needs into account. It was designed so that they can easily tap into the upper balcony system as needed, which cuts down on load-in and adds to the overall sound quality of the event."
Justin Maland, U of A Associate Athletics Director, was extremely pleased with the upgrade and the options it provides the University. Scott concluded that the University is looking toward the future and the possibility of hosting other large scale events for students and is confident the system can support them for years to come.