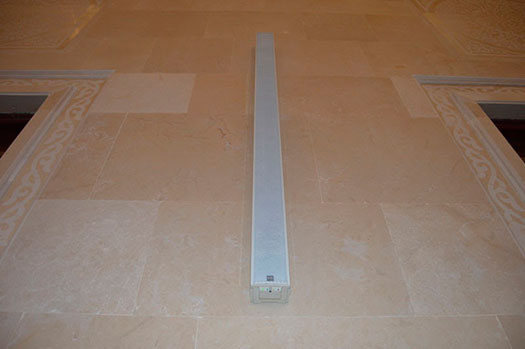 The Sheikh Zayed bin Sultan Al Nahyan Mosque, recently inaugurated at Fujairah in the United Arab Emirates, is one of the largest and most spectacular places of worship in the world.
This architectural work of art can host up to 28,000 worshippers and features 65 domes, six minarets tall, 24 carat gold-plated accessories and precious hand-woven carpets. The building's area is 39,000 sq-metre (excluding the majestic courtyard and external areas): it is the second largest Mosque in the UAE and it was built using marble and fine materials from all over the world.Because of the Mosque's size and its architectural features – in particular the high ceilinged domes that are typical of the Islamic style -the Mosque is an extremely reverberant venue. Similarly to other large-sized places of worship, the main challenge for RCF's engineers was to attain good intelligibility across the entire listening area without neglecting the requirement for minimum visual impact.
For these reasons the choice of the main audio system fell to RCF's VSA 2050 multi-amplified digitally steerable columns. The directivity control function allows a clear and faithful reproduction over the listening area while minimising energy dispersion towards the ceiling and the side wall concavities, thus reducing the reverberant field. White VSA 2050's are elegant and ensure a minimum visual impact, integrating naturally in the building where white and gold are the prevailing colours.
RCF's L2406-T three-way column speakers, also in white, have been used as delay lines and sound reinforcement in smaller areas inside the Mosque. Thanks to their narrow vertical coverage of 30° and an excellent quality of sound, these columns complete the main system with superlative results. They are also very easy to install through, with an integrated transformer that is particularly useful for installation on pillars or in other points where there are restrictions on wiring.
The audio system also comprises CS 6940 column speakers, which have been installed in hallways and small secondary rooms, and P 4228 outdoor speakers, which were the right choice for the Mosque's main courtyard. RCF's horns (HD 410 and H 6045) were installed on the minarets, and guarantee long throw and incomparable SPL. The installation and commissioning were carried out by Oasis Enterprises.