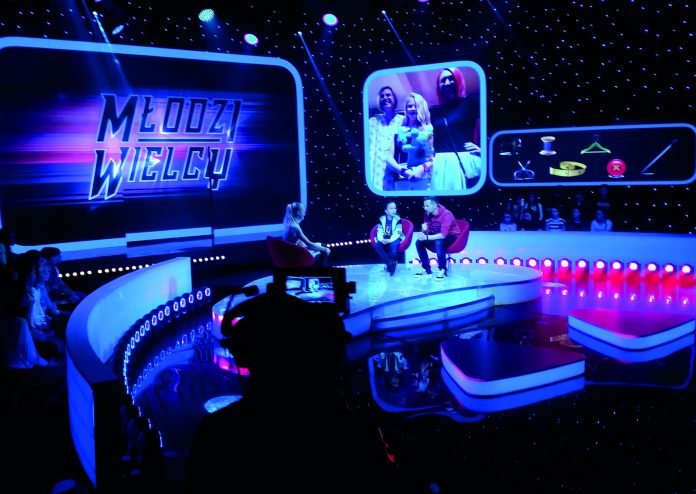 Polish Event Technology Providers, Sound & Lights Service, recently invested in 60 of the new Cameo MOVO BEAM 100 Moving Heads. Since the beginning of March, one of the first jobs for these ultra-fast, powerful LED RGBW spotlights has been the 13-part casting show Młodzi Wielcy, from the Polish broadcaster TVP. A total of 46 x MOVO BEAM 100s – prominently positioned in a semi-circle around the studio stage – serve as a central design feature and visual element of the nationally popular TV production.
"We have relied on Cameo for years, and particularly appreciate the extremely low maintenance requirement of the spotlights", said Sebastian Bernat, Managing Director, Sound & Lights Service. "But Cameo products are also impressive for their quality of lighting, including the new MOVO BEAM 100.
"We recently carried out an extensive A/B comparison with comparable moving lights from other professional manufacturers. The MOVO BEAM 100 was the clear winner in the key areas for us: speed, precision of movement and beam-concentration."
Dagmara Majewska, Adam Hall Group, Sales Manager for Poland: "Sebastian Bernat from S&L Service had heard about the use of the MOVO BEAM 100 from one of our sales managers at the Adam Hall Group International Sales Meeting, and wanted to test the light as soon as possible. After we sent him two samples, he said he was impressed and invested in 60 of the MOVO BEAM 100s, most of which were used immediately for the TVP production." 
In addition to its LED ring with four individually controllable RGB segments, which surrounds the 60-watt Osram RGBW LED, the MOVO BEAM 100's whisper-quiet operation and its refresh-rate of 1,000 Hz should not be underestimated.
"We have many years of experience in the TV sector. Therefore, we are aware of how critical not only effective or switchable fan-cooling is, but also its compatibility with the TV camera images. With the fan switched off, the MOVO BEAM 100 intentionally runs at only 30% efficiency – and yet allows a fully functional, flicker-free TV-picture", explained Sebastian. "This was confirmed many times over by the TV technicians from the TVP channel who were working on Wielcy Młodzi."
The MOVO BEAM 100s were programmed and controlled live in the studio by a Hog 4 light console from High End Systems, via an Art-Net Ethernet network.