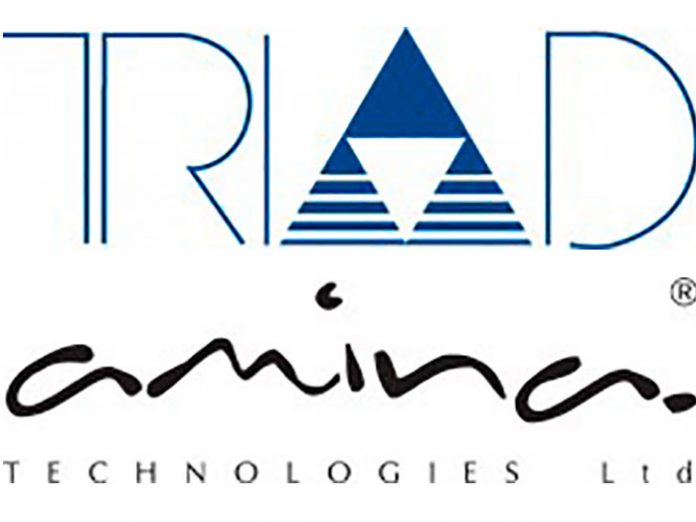 Invisible speaker specialist Amina Technologies has announced that leading US custom residential channel loudspeaker brand Triad Speakers will become the exclusive distributor of Amina Technologies products throughout the Americas. Larry Pexton, Founder and CEO of Triad Speakers and Richard Newlove, Founder and Managing Director of Amina Technologies presented the full Amina line under one roof at the 2015 CEDIA Expo in Dallas, TX, 14-17 October.
Established in 1999, Amina is the world's first plaster-over-distributed mode loudspeaker (DML) company. Amina developed a line of passive speaker panel designs comprised of an aluminum frame, honeycomb core lightweight composite and high performance electromagnetic transducers. All the components work in concert to create a vibrating element that produces sound waves. The panels mount in between wall and ceiling studs in a typical home construction. The paper skin covering of the core provides a high-bond surface for adhesion to plaster, drywall compound, mud skims and veneer. Once covered and painted, the panels are invisible to the eye.
Founded in 1982, Triad is a leading international provider of complete loudspeaker solutions for multiform residential and home theatre system applications. Its offerings include front-channel, surrounds, subwoofers and distributed audio speakers all via enclosed in-wall, in-ceiling, on-wall and freestanding designs. Over 80% of the company's products are manufactured daily at its Portland, Oregon headquarters, in a lean manufacturing process (a pure build to order operation of its US made goods).
From its head office in the UK, Amina has distributed its products in the US market for over 12 years via a direct relationship with the trade. In 2008, Triad began marketing its own line of invisible loudspeakers (Designer Series) – developed and manufactured by Amina. In 2010 the two companies extended the relationship, allowing Triad to market its Designer Series to a limited number of territories outside North America. The two brands have successfully operated in parallel with separate rep channels across the continent, and the two have continued to build a strong relationship as interest and awareness of the segment of the market continues to accelerate.
Triad and Amina have now joined forces in North America to create one consolidated face for Amina to the market. As part of the consolidation Triad will no longer brand the product under its own Designer Series name, but will market the products under the Amina brand name. Amina's Keith Vanderkley – who had been representing the Amina brand as Director of North American Sales – will lead market development and support all Amina sales through Triad dealers, as well as the former Amina dealers, who will now be buying from Triad directly.
The Amina invisible speaker products are suitable for residential and commercial applications. Products range from single-panel and dual-panel – including two channel stereo models – designs for music listening and home cinema as well as ultra-discrete build-in subwoofer solutions. With the transition, additional models are now available to Triad dealers which were previously available solely to Amina dealers. Designed and manufactured by Amina in the UK, all future stock to the Americas will be shipped out of the Triad facility in Portland.
"Richard and his company have been a remarkable supportive supplier of our Designer Series products," said Larry. "The relationship has been so good that we have made a long-term commitment to their full product line. Working together, Triad and Amina are developing important additions and improvements to the Amina products, and developing complementary subwoofers and subwoofer amplifiers for use alongside Amina panels. I am convinced the Amina panels are the best sounding products of their type on the market by a comfortable margin. I am planning to install them in my own living room."
Larry furthered: "Keith Vanderkley has been a great advocate of Amina products for many years, as well as a very capable design talent. We look forward to working even more closely with him."