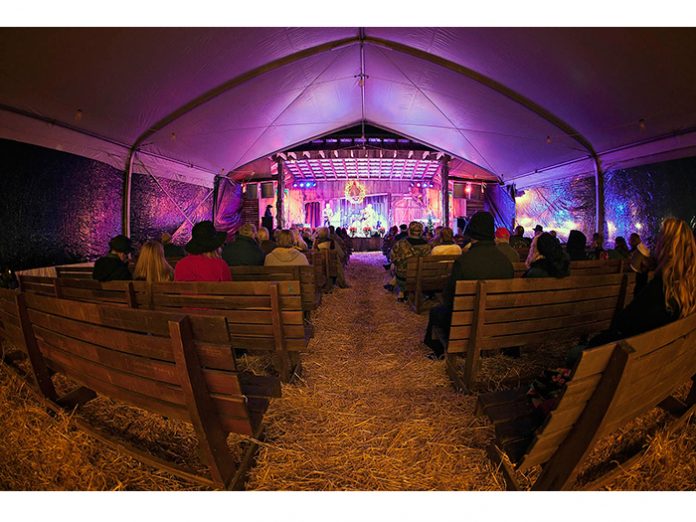 Johnny Cash called his farm, which he owned for over thirty years, "the centre of my universe," and it was his refuge between tours. Located in Bon Aqua, Tennessee (a pleasant 45-minute drive from Nashville), both the nearby general-store-turned-live-music venue (where Cash often held small, local shows) turned-live-recording studio and the farm are now open to the public as the "Storytellers Museum & Hideaway Farm." Famed Nashville trumpeter and audio engineer Dan Oxley oversaw the installation of two Danley Sound Labs-based sound reinforcement systems at Storytellers Museum, one for indoor performances for up to 150 people and one for outdoor performances for up to 2,000 people.
"True to Johnny's spirit, we wanted to create a living museum, where great musicians can still connect with appreciative audiences," explained Oxley, who has lived and worked in the Nashville area since the late 1990s. Given his expertise, his older brother and the establishment's owner, Brian Oxley, gave Dan Oxley the responsibility of readying all aspects of the live music experience at the Storytellers Museum. Cash himself used to play on that stage – a comfortable and incredibly convenient venue for someone who could easily command vastly larger crowds in distant lands! The building itself was originally a general store that was later converted to a live music venue and then indie record label guru Red Wortham converted it to a recording studio.
The younger Oxley did a lot of research to find a sound reinforcement system that would meet his high expectations for the Storytellers Museum. "A lot of the companies that I contacted for demos and pricing information had a cocky attitude, like 'you're gonna have the privilege of working with our stuff,'" he said. "Danley was totally different. I talked to [Danley president] Mike [Hedden], and he was super excited about the project. He traveled out to visit the property with some Danley boxes to demo. They sounded fantastic – more like a hi-fi system than a PA – and Mike's whole attitude was so accommodating. It was clear that we wanted to work with the sound of the Danley boxes and with the people who stood behind them."
Incidentally, Dan Oxley left the contemporary Christian band Truth in 1980, and soon after Hedden – himself a trumpeter – joined the band! "It was kind of a Chicago-style Christian rock band, with plenty of horns and that big Chicago sound," Oxley said. "Mike and I didn't cross paths, but it is a common bond." Indeed, when Hedden traveled out for the demo, the two trumpeters tore it up on stage!
Hedden commented, "We are honoured to be a part of one of the iconic legends of American music. Johnny Cash was known for honesty in his music and being someone the common man could relate to. We share those values and hope many people will take the time to experience this amazing place! To be able to work with Dan and his incredible family makes it even more special."
The indoor stage uses a stereo pair of Danley SM-100 loudspeakers and a single Danley TH-118 subwoofer. The outdoor stage uses four weatherized Danley OS-80 loudspeakers, two for main stereo coverage and two for out-fill, plus two Danley TH-118 subwoofers. In addition, the stages share four Danley SM-80M loudspeakers for use as monitors. Three Danley DNA 20K4 Pro and DNA 10K4 Pro four-channel amplifiers not only power the system, but also provide all of its input conditioning and loudspeaker conditioning DSP. Currently, Oxley uses a rack-mount PreSonus mixer with an iPad interface to mix, but he will soon upgrade to a physical PreSonus Series 3 console.
"When I listen to live music, I always want a hi-fi experience," Oxley said. "I want hi-fi impact and clarity. But most PAs sound, well, like PAs! The Danley boxes give me that hi-fi sound (we could easily put up a screen and show a movie) and they continue to sound that good even at the high volumes needed for a show. We're all thrilled with the new venue and look forward to making it a staple of the Nashville experience."