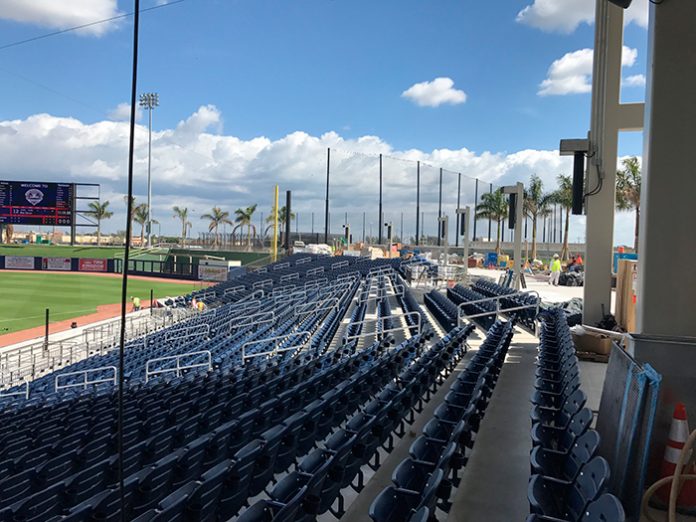 In days of yore, spring training baseball stadiums were small, low-tech, and sometimes even a bit funky. In contrast, the 160-acre Ballpark of the Palm Beaches, the brand new, shared spring training home of the Houston Astros and Washington Nationals baseball clubs, is a truly state-of-the-art facility. You'll find the latest amenities, including a 6,500-seat main field, six well-appointed premium suites for up to 15 guests, 2 party decks with food service and a full bar for up to 100 partiers-and a high-end sound system based on two dozen Renkus-Heinz ICONYX ICL-FR line arrays.
Outside the main stadium, the complex features twelve practice fields (six for each big-league team) and seven 120×80-yard, multi-sports fields for soccer, lacrosse, football, and rugby. There's even a 12-acre city park near one entrance. It's a fabulous place to have fun and enjoy baseball.
"The Renkus-Heinz speakers serve the main stadium," notes Ben Cating, Senior Consultant and VP for technology design firm Idibri and project manager for all technology systems at the venue. "Since this is an outdoor stadium, one big requirement was that the speakers have a IP54 outdoor rating, and Renkus-Heinz' IC Live speakers satisfy that requirement." IP54 indicates the equipment is dust protected and resistant to splashing water.
"Another challenge was mounting," Cating recalls. "Underneath the main stadium are a number of slender columns that support the press box, which we used to mount some of the Renkus-Heinz arrays. Where there are no supporting columns, we used ten custom speaker poles, five on each side. We designed the system, including the network. Pearson Audio did a great job with the installation, including the mounting solution, which is very clean."
Although the mounting system was well done, there remained an unavoidable issue. "Typically, in a situation like this, you use a long-throw and a short-throw loudspeaker," explains Cating. "But there is no overhang or canopy on the speaker poles, so we couldn't put a big speaker enclosure on an overhang and aim it down at the people."
Idibri's solution was a series of 24 Renkus-Heinz ICL-FR steerable arrays-enough to reach every section of the stands with even coverage. "Self-powered Renkus-Heinz ICL-FR line arrays were effective because each unit is steerable with an adjustable aiming angle from -30° to +30°," details Ben Boeshans, the systems audio designer for Idibri. "They put the sound right where we needed it. The system even covers a little bit of the field, although that's not a target. And the sound quality is excellent, very clear and intelligible."
The ICL-FR easily delivers the power and throw needed for the stadium, delivering 105 dB SPL peak at 100 feet. "The Renkus-Heinz ICL-FRs fit with the architecture, as well," adds Boeshans. "It's a slim, vertical enclosure that blends right in. To the extent you notice the speakers, they actually look pretty cool!"
The new stadium opened for 2017 spring training on February 28. "The Astros and Nationals have been playing ball all spring," Cating reports, "and the Ballpark of the Palm Beaches has already proven to be a wonderful venue. The audio system is an important part of that; the Renkus-Heinz system is doing a stellar job. If you're in Palm Beach, and you like sports, come check it out."