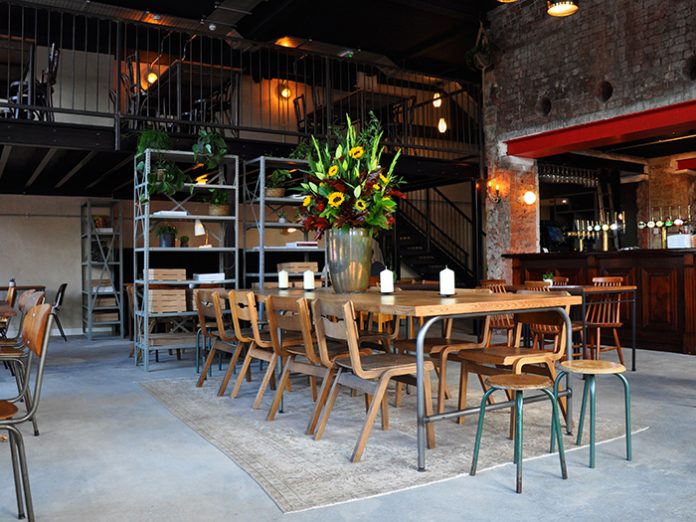 Best known for its creativity and music scene, Bristol is famous for its sound systems from the streets of St Paul's carnival to world class venues, Motion and Lakota. The teams behind CRACK Magazine and various well-known venues across the city have joined forces to open an all new venue designed to cater pub food, drinks and music on an equal footing. The Red Church has been fitted with a vintage sound system direct from Pinewood Studios with some state-of-the-art modifications.
The team behind the installation is Alex Lindsay who has worked as a sound engineer in the South West for over 25 years, and James Barnett from BES Systems – Bristol based sound and lighting hire company. The team came together to install and commission the system at The Red Church over the course of six months following twenty plus years of friendship and partnership with Dave Smeaton, one of the venue's founders.
James Barnett, of BES Systems says: "The foundation of The Red Church system is a Martin Audio Screen 4 3-way cabinet with dedicated mid-range and modified high frequency sections. We were on the hunt for a vintage Martin Audio rig because of its superior, low distortion output. The Screen series works particularly well in small scale environments, specifically cinemas and theatres, it's incredibly detailed and the coverage is exceptional.
Dave [Smeaton] approached me in 2019 looking for a PA that would sound as detailed for low level background music at brunch as for DJs running higher volume late night sets. The screen 4 was a perfect fit. We wanted to create something unique in Bristol and with Alex's studio experience, technical knowledge and expertise we have delivered a remarkable sounding reference inspired package – it produces an exceptionally smooth, flat output that avoids the distortion traditionally associated with large format compression drivers. We are very, very pleased with the results"
Alex Lindsay of BES Systems said:"The system was previously used at Pinewood Studios in their movie testing theatre. With such scale, the system fitted in The Red Church is only half the original system with modifications made to fit the restaurant environment"
"The coaxial mounted mid high with enhanced planar magnetic high frequency drivers is accompanied by 3 Dayton Audio PHT1-6 (5KHz – 18KHz), a horn loaded 1″ compression driver, passive crossover (630Hz – 5KHz), a horn loaded 6.5″ mid driver (630Hz – 5KHz), a 15″ Lower mid driver (inner) (55Hz – 630Hz) and a 1 x 15″ Bass driver (outer) (55Hz – 150Hz)"
"One of the main modifications we had to make was adding an array of Dayton Audio PHT1-6 Planar Horn Tweeters on either side, to create superior coverage and even-distribution at all levels. As the PHT1-6 provides quick reflexes and smooth, non-fatiguing detail of a planar-tweeter with high power handling, it means that the venue benefits from projected sound at all levels throughout the building. It features a newly built mezzanine which adds an extra dynamic to the space.
"We re-wired the woofer boxes, so now the bi-amp 15" woofers offer both bass and lower frequency projection across the venue, effectively creating a 6-way sound system running 5 way active. With MC2 T Series Class AB amplification driving the system and conventional analogue level controls via the BSS Soundweb London DSP help deliver the cleanest sound available coupled with ultra-high standards of reliability. A 2-stage limiter has been used with a side chain equaliser to reduce the harshness on the first stage.
"We originally installed the system in a line array but due to the low level it came down to, we had to modify the set-up with a front mounted mid high. This was a challenge but despite the modifications we managed to hang the ¼ tonne of equipment comfortably in the restaurant"
In addition, the team also installed a Bozak AR4 DJ mixer to run the vinyl-only policy from, allowing visitors the chance to select from the resident collection of records. The now Bristol based audio brand under Analog Developments have in the past created mixers for legendary locations such as Studio 54, Nicky Saino's gallery and now The Red Church.
James said:"It wasn't a hard decision when choosing the DJ mixer for this project, Bristolian DJ and Analog Developments head honcho Paul Morrisey has been involved with DJ'ing and DJ mixers for over 45 years; his knowledge is simply unsurpassed. The Bozak AR4 is hands down (no pun intended) one of the best sounding mixers on the market, the output quality of that unit is incredible, it was a great fit for what we were trying to achieve quality wise and Jockeys of all persuasions love it"
Dave Smeaton, of The Red Church said: "When installing the system we were looking for the quality sound experience of a listening bar that would compliment our food and drinks offer. Whilst we're not exclusively a listening bar we do have that level of sound within the venue. We worked with BES Systems on the install and they sourced a vintage cinema system which was previously used at Pinewood Studios, this is coupled with a Bozak mixer. Our DJ line has been carefully curated and the DJs are asked to bring records more suited to the listening style environment, it's also vinyl only which adds to the overall experience. Going forward we plan to start album listening parties and have many more special guest DJs lined up"