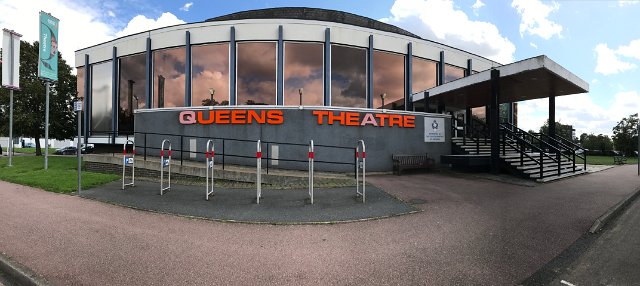 Opening first in 1953 then moving to their present home in 1975, The Queen's Theatre Hornchurch is a 500-seat producing theatre within the London Borough of Havering. In common with many such venues, it hosts a very diverse range of entertainment which places expensive demands on its technical infrastructure.
Following a recommendation from the (soon to be re-opening) Bloomsbury Theatre, Autograph Sales & Installations were recently asked to assist with specifying and supplying a major upgrade to the existing analogue audio mixing system for the main auditorium. Autograph's Peppe Mallozzi subsequently recommended a DiGiCo SD9T for its combination of small footprint, plentiful input capability, bus flexibility, rider acceptance and its ability to host the unique, theatre-specific DiGiCo 'T' software.
Peppe conducted an introductory training session for the house technical crew at Autograph's demo facility prior to delivery, followed after delivery by in-depth further tuition at the theatre. The SD9 control surface is accompanied by a single SD-Rack (fitted with DiGiCo's fibre-optic data-transfer option), a UB MADI interface and an Optocore tour-grade digital multicore.
Chris Howcroft, the theatre's Technical Coordinator, commented, 'The Queens Theatre Hornchurch produces a lot of actor-musician shows and the T-series software gives us the features we need to respond to a designer's requests quickly.'
"We put the new SD9T in place just in time for our youth theatre production of 'The Wind in the Willows' and instantly used more channels than we had available on our old system so it's reassuring to know that we can easily add new racks and i/o cards in the future. The system supplied by Autograph and DiGiCo has also revitalised our PA, which sounds better than it has in a decade."