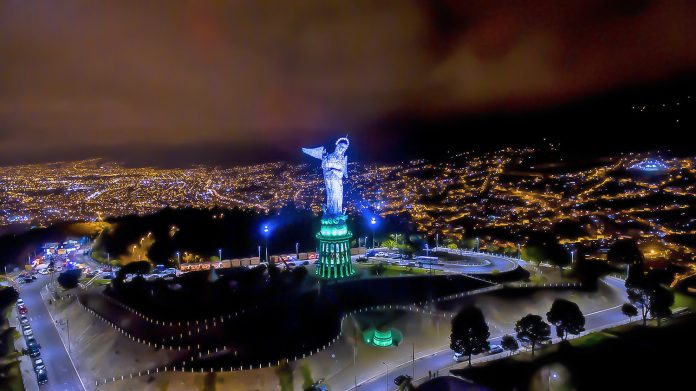 The statue of Panecillo's Virgin, which is located on El Panecillo, just outside the city centre of Quito, Ecuador, has been part of the city since the 18th century. The Virgin, also known as Virgin of Quito, was built in honour of the Virgin Mary by a group of artists from the Escuela Quiteña. Standing at 30 meters high – 11 more considering the base – it is one of the world's tallest statues and an undisputed emblem of the city of Quito.
In October 2016, the Quito municipality, according to the MTE (Empresa Mantenimiento Técnico Especializado), commissioned a dedicated lighting project for the world heritage site.
From there, Monica Velasco and Miguel Salomón, Lighting Designers for Salotec Luminoplastia, planned a fascinating lighting design to enhance the historical monument, with DTS Lighting fixtures used prominently.
Miguel explained the project further: "The virgin statue is an austere and imposing monument but the request was to have a dynamic lighting design.
"The Quito Municipality has commissioned the project knowing that the installation dimensions required careful study, and indeed the projectors had to be placed at a distance of 50/60 metres from the surface to light. That's why we chose to use the DELTA 12 FC: they were able to deliver all the power we needed, thanks to their 48 Ostar RGBW LEDs.We chose narrow optics and the result was excellent. The DELTAs fully met our needs, in terms of reliability, robustness, efficiency and luminosity."
"The project is based on a neutral light. More colours can be added at any time, so that the Municipality can adapt the installation to each event," added Miguel.
"For example, the 1st of January during the night the Panecillo's Virgin was lit in green in honor of Chapecoense Brazilian football team victim of the tragic plane crash that took place the 28th of November. And again, from the 3rd to the 7th of December the statue is coloured red, blue and white in homage to the Quito Foundation Days and now it is green, red and white for the Christmas festivity."
Panecillo's Virgin is one of the main tourist attractions in Quito, which is why it was so vital that the lighting project was planned to perfection, with a modern system that offers low power consumption.
"We are really proud about the project, but if I had to choose the detail that most fascinates me is the effect that we achieved on the clouds: Virgin face and crown of stars cast their shadow on the sky," said Miguel.