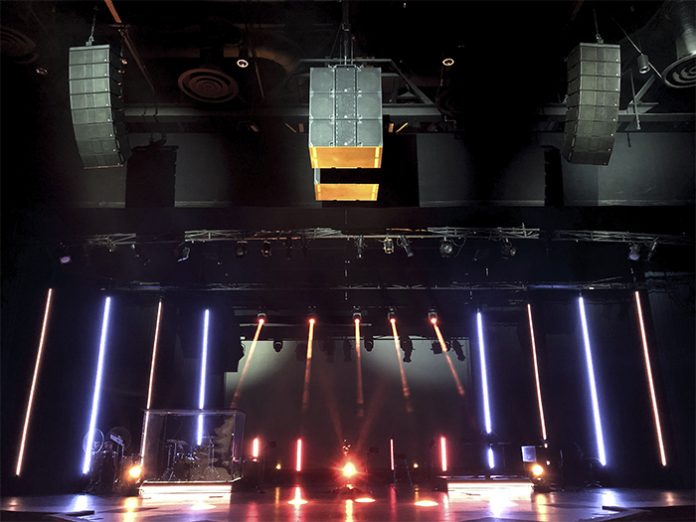 Founded in 1980, The House in Modesto, CA, hosts dynamic services that bring the community together with live music acts, special events and a diverse pastoral team. The church's recent PA upgrade to an Adamson system is changing the way that congregants in the 1,800-capacity auditorium can experience worship, with clear and rich sound delivering praise-worthy performance. And while the pandemic limited live services temporarily, The House has kept the community close with online worship and outreach and is ready to welcome it's full church family back home.
Jason Rightnour, Audio Director at The House, chose to install Adamson speakers in the auditorium after auditioning speakers from several other manufacturers. Rightnour was impressed by both the clarity and power of the Adamson product line: "I went to trade shows, conventions and speaker shootouts but I couldn't find a system that fit our needs until Adamson. Once I heard this PA, I was in shock with how clean the box sounded with its crystal-clear highs and no distortion."
As a church with a congregation of diverse age groups, it was important for the AV team that this new system provide quality sound without any tonal loss, harsh tones or distortion for both their regular services and special events like concerts or youth services, which tend to be run at a higher decibel level. With its minimal footprint, the Adamson system has also allowed the church to maintain great sight lines and a clean aesthetic in their auditorium.
The PA, installed by Clark Productions, includes two main arrays of eight boxes of S10; the top four boxes are S10n while the bottom four boxes are S10. Low end coverage is provided by six E219 flown above the center of the stage in an end-fire configuration, as well as two E119 placed on the floor for additional presence. Two S10p point source cabinets flank each side of the arrays and are used as side fills, while ten PC5 speakers act as front fills. The balcony features seven S10p, while M12 are used on stage as monitors for the pastoral team.
Church members were quick to comment on the upgraded system. Rightnour received compliments on the install on the very first weekend the PA was deployed: "I had different people come up and tell me how much better it sounded, that there was clarity in the pastors' speeches as well as a much clearer sound when the band played. Many of these people had never said anything to me in the five years I've been running sound for the church." He notes that the auditorium is a live room with many reflections and little to no acoustical treatment, which makes achieving optimal sound difficult. The Adamson PA made a noticeable difference in both the sonic quality as well as reach of the sound.
The House AV team was also impressed with the upgrade. Colby Higgins, the church's monitor engineer, stated: "I love the Adamson system. It sounds much better than our previous PA. I am blown away by how a small box like the S10 can output more both in clarity and volume than our previous bigger, clunky boxes." Rightnour echoes this sentiment: "When I first saw the PA being flown into position with eight boxes per side, I was thinking, 'this is not going to be enough PA to fill this room.' But after the rig was installed and tuned, I was in shock with how loud it got!"