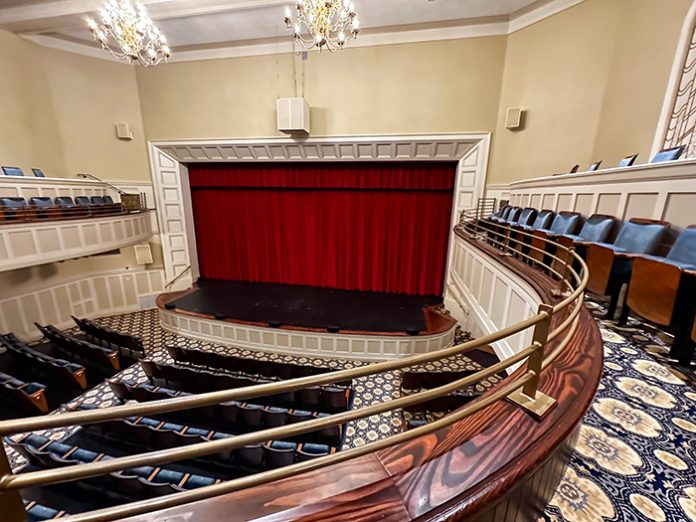 In late 2023, the historic Eichelberger Performing Arts Center, Pennsylvania, underwent a renovation that included upgrading their permanent audio system. After hearing about the new 1 SOUND system in the Levoy Theater, Fitch Electronics, who was contracted for the audio renovation at Eichelberger, reached out to 1 SOUND for a demonstration.
As proposed, 1 SOUND brought the loudspeakers to the theatre for a demonstration. The client heard the premium audio quality from the loudspeakers, felt assured in the brand's support, and quickly understood the excellence of this investment.
The Eichelberger building is listed on the National Register of Historic Places and is considered worthy of preservation, so it was important for the installation of the loudspeakers to not be intrusive to the space. Luckily, the client felt that the audio system worked aesthetically in the venue, whilst still retaining the desired functional qualities.
Fitch Electronics installed two of 1 SOUND's new Contour CT212 as the main left and right on the orchestra level for 450 seats. The Contour CT212 is a 3-way point source with controlled directivity, a long throw, and a max SPL of 145 dB. The CT212 has an intimate sound at lower volumes and an unprecedented clarity and lack of distortion at high SPL, especially for a loudspeaker of its size. This makes it the perfect loudspeaker for this application where there can be a theatre play or a touring rock band on the system.
To support the balcony level of 250 seats, two Contour CT28s were mounted with their Wall Bracket accessory. For bass, two SUB215s were hung in the centre of the hall above the proscenium.
To rig the subwoofers in the air, M8 eye bolts were screwed into their rigging points at the top of the subwoofer, and used to hang the subs in combination with custom hanging hardware made by 1 SOUND. The SUB215 is 1 SOUND's newest subwoofer that is a compact, deep, and punchy sub with two 15-inch tetracoil technology drivers. This sub can reach a max SPL of 140 dB and is less than 18" wide or tall.
For extra support in the first rows, Fitch Electronics specified five Panorama MS34s as the front fills on stage. The Panorama MS34s were deployed in 1 SOUND's Mono + Stereo mode, utilising their proprietary M+S Controller interface, maintaining the stereo image in the seats next to the stage. The MS34s were all ran on one wire across the lip of the stage.
Lou Mannarino, the Audio Designer and CEO of 1 SOUND, visited Eichelberger after the installation, completing system optimisation for the venue. Mannarino stated: "It was such a pleasure to work in this historic theatre alongside Fitch Electronics. For us, [1 SOUND] this was our first completed installation using our new SUB215s. I was pleased to hear their performance in this theatre, their sonic clarity and musicality in the low frequencies, and also their efficiency and impact at high SPL."
Mannarino concluded: "it was a proud moment for me hearing the results. They did a beautiful renovation at the Eichelberger Theater."