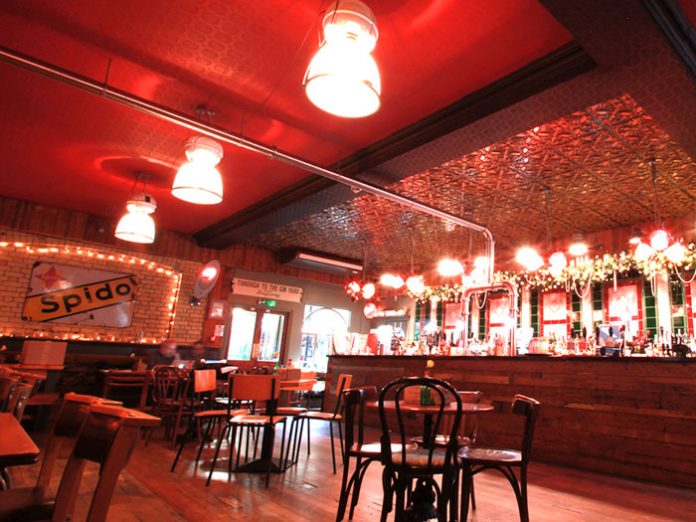 The Four Thieves, one of south London's more unusual pubs, has recently re-opened, hosting highly accessible leftfield entertainment from stand-up comedians to live music and vintage DJs. And integral to that successful performance formula is a new sound system from Tannoy and Lab.gruppen, installed by Brighton-based professional Audio Contractor, Alastair Dixon.
The new owners, the Laine Pub Company, looked to Alastair, who had worked on several previous projects for them, to provide a versatile audio solution, as Manager Dan Luker explained: "Alastair has worked with us for quite a while now, and we've always had really good service. He always knows exactly what he's talking about, and understands exactly what we need. It's an honest working relationship, which we respect."
Alastair specified Tannoy 18 VX eight passive two-way loudspeakers featuring 8-inch Dual Concentric full range drivers distributed throughout the venue to provide the basis of a solid, full range acoustic output supplemented by two VX 8.2 bandpass subwoofers for additional low end. In the Boatroom, a small self-contained room with its own stage that caters for live bands, comedy and cabaret, the larger VX 12s and VSX 12.2BP 2 x 12-inch bandpass subwoofers provide substantially extended low end response. The whole system is powered by Lab.gruppen 1U rack mount IPD1200 and IPD2400 amplifiers with on board DSP.
"Tannoy as a brand is one that I'm personally fond of, as I actually own some speakers as part of my home system," said Dan. "I've been a fan for a long time so when Alastair suggested Tannoy I was more than happy.
"Every aspect of the Tannoy and Lab.gruppen combination is well thought through and suits our purpose," he commented. "The challenge for us was that we needed to use the sound system quite diversely. We have everything from live comedy which needs a good crisp vocal balance to punch through all the way through to nice warm music for DJs and live acoustic music that we mic up. We also put on five-, six- or seven-piece bands, and every Sunday we have jazz, so it really needed to be very versatile and deliver much more than simply background music."
Each of these applications and zones required a slightly different audio treatment, which the new system caters for very easily. One area in particular needed slightly altered equalisation in order to improve intelligibility for customers ordering at the nearby bar and to avoid potential noise transmission issues from the wall-mounted speakers. "Because of the way the system is zoned with only a few speakers on each of the IPD amplifier channels," said Alastair. "We simply rolled those off at around 100Hz and set the volume slightly lower. That would not have been possible with a conventional amplifier."
"The Lab.gruppen IPD series amplifiers are absolutely fantastic," he continued. "For me they have really come into their own on this project with the flexibility to fine tune individual zones and even isolate and tailor specific speakers so easily.
"Turnaround was tight, as it always is on a pub project, but Paul McMullan from Tannoy and I were able to tune up the system with the Xilica Neutrino in no time even as the rip saws were still going in the final phases of construction" said Alastair.
"We're really, really happy with the result," Dan concluded. "It sounds nice and warm and filling, which is great in this environment where we can have a really nice full sound without people having to shout. We use the sound to act as invisible walls between tables that's how we set our sound levels throughout the night. We pitch the level so that if you're sitting on an adjacent table you can talk to your friends without over-hearing what's going on at the next table."