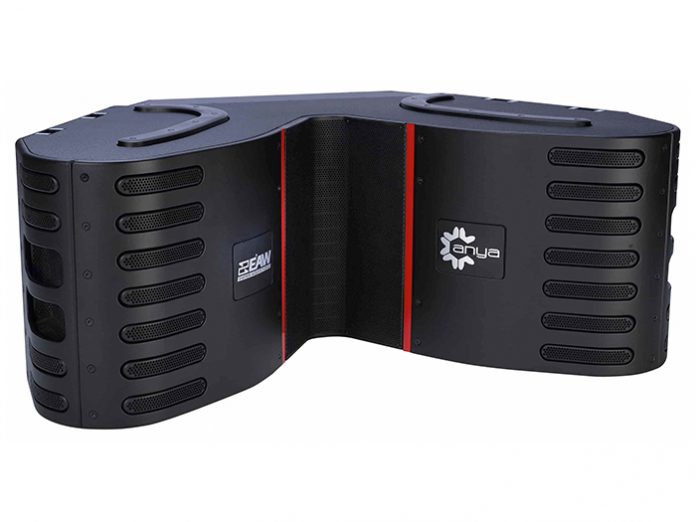 When it comes to New Year's Eve celebrations, the Serbian capital of Belgrade has long been recognized in the region and throughout the world as having one of the best. With Belgrade's 2022 New Year's Eve celebration green lighted by city officials, Skymusic, one of the leading sound reinforcement rental companies in Europe, was given the task of providing an unforgettable experience for the crowd of revelers in attendance.
The celebration, which centered along the Belgrade Waterfront, a new complex of buildings including the 551-foot-tall Kula Belgrade tower, required Skymusic Sound Engineer Vladimir Buric to cover a lot of ground. The multimedia spectacle featured a laser show, fireworks, videos and live performances by some of Serbia's biggest stars including, Jelena Karleuša, Marija Šerifović and Sara Jovanović . Outdoor winter events at night always present a unique set of challenges, which led Buric to the Anya 3-way full-range ADAPTive array module from Eastern Acoustic Works (EAW).
"We needed to project sound over a half mile on the riverbank evenly and that was no easy task," says Buric. "I have been using EAW since 2005 and knew that the Anya ADAPTive system would be a great and logical option since it can project even coverage across long distances while maintaining fantastic sound clarity."
Buric and his team used a total of 32 Anya's,16 on each side of the Kula tower, covering close to a quarter mile of ground in each direction. The system was hung at 55-feet high on the tower and by utilizing EAW's Resolution™ 2 software, Buric was able to ensure maximum performance including even farther coverage on the upper mid frequencies.
"The Anya system delivers incredible intelligibility over great SPL, so it is basically loud and clear," adds Buric. "I really like the Dante integration and the Anya's audio quality is very much like hi-fi or studio speakers; very well balanced and offers different voicings as a quick solution to various program materials. It's a great system that ensured the party on the plateau in front of the House of the National Assembly was a huge success."
EAW Anya is a complete, self-contained, high-power sound reinforcement system that adapts all performance parameters electronically, allowing it to be used in virtually any application. Columns of Anya modules hang straight, without any vertical splay, and Resolution 2 software adapts total system performance to produce asymmetrical output that delivers coherent, full-frequency range response across the entire coverage area as defined by the user.
It is extremely powerful and immensely scalable, making it suitable for anything from small venues to the largest stadiums. Each Anya module includes 22 highly customized transducers that are powered and processed independently to provide extremely high resolution and control.