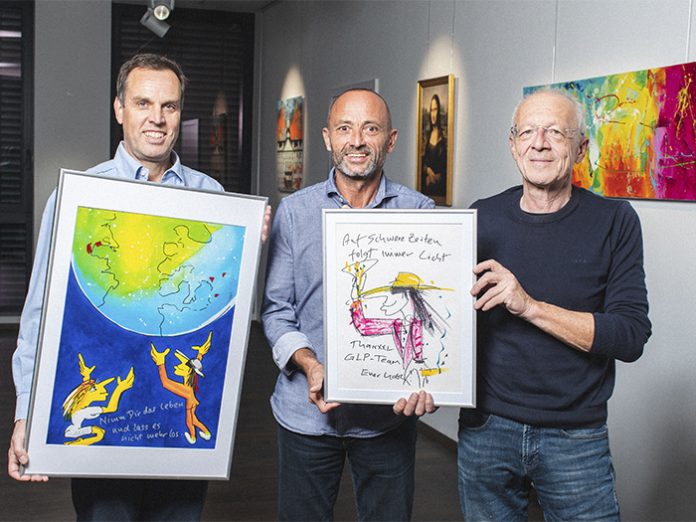 At the end of last year, GLP German Light Products opened a further showroom at the company HQ in Karlsbad dedicated to the manufacturer's installation solutions. At the opening ceremony, Günter Jäckle, Udo Lindenberg's lighting designer for many years, handed over an original work of art by the musician, which will be on display in the showroom in the future.
GLP, best known as an innovative manufacturer of automated lighting solutions for the entertainment industry, is focusing on its growing portfolio of innovative installation products with the new showroom.
The FR1 TM (Trackmount), an ultra-compact moving light from GLP that is suitable for track mounting, debuted in 2019. Thanks to its powerful, homogenised 60-watt RGBW LED engine, the FR1 TM allows expressive, coloured or white beams with a flexible colour temperature in the range of 2,500 to 10,000 kelvin. As the device has a EUTRAC three-phase power rail adapter, it can easily be operated in all commercially available, compatible power rail systems. Thanks to its compact design and wireless control, the FR1 TM is ideal for the flexible lighting of shops, galleries and museums, as well as for the entire architectural lighting sector.
Agilio – highest light quality and flexibility in one motorised device
The showroom will also display the new Agilio, another motorised light specially developed to enable quick, application-specific lighting in museums and galleries with app or DMX control.
Several devices can communicate with each other in the almost latency-free GLP iQ Mesh network without any external light control. This network is generated automatically when the Agilio is controlled via the smartphone app. iQ Mesh does not require an additional gateway because all devices used receive the signal and amplify it among themselves.
The innovative Agilio spotlight has a motorised 16-bit control, a motorised zoom of 15–35° and a luminous flux of 6,000 lumens, and dims extremely softly down to 0. The TM-30 value is Rf 90+/Rg95+, the TLCI is over 90, and the lamp emits neither UVA nor IR. The installation is also carried out on power rails.
DMX over Powerline (DoP) as a new proprietary transmission technology for the architectural lighting sector
With the DoP Converter (DMX over Powerline), GLP also offers a unique system that can transmit up to ten DMX universes via a single power cable. DoP can be used wherever DMX data is to be transmitted without laying separate cables. With the DoP Converter, GLP offers an alternative to wireless connections which are sometimes susceptible to interference (WDMX, CRMX, etc.), which each require a transmitter and receiver, and which may also be subject to local limitations of the available frequency spectrum.
GLP DoP is ideally suited for integration into existing infrastructure throughout the entire architectural lighting sector. This is especially the case in historical buildings with existing track systems (eg museums, galleries, hotels, restaurants and retail), as well as in the lighting of public spaces.
Both the GLP FR1 TM and the Agilio are already compatible with the new DoP technology.
"We have recognised that, as a supplier of motorised lights, we can fill a gap in the installation market," explained GLP Managing Director Udo Künzler. "Our technologies create an unprecedented degree of flexibility in a minimum amount of time. Spotlights that can be controlled by DMX and an app, with the possibility of pre-programmed scenes, are a huge benefit, as it also reduces costs where previously you had to change the lighting around manually.
"In order to make our innovative offer more accessible to the large installation market, we are now recreating typical user scenes in our installation showroom, which we can use to demonstrate definitively the advantages of our products."
Günter Jäckle hands over the Udo Lindenberg original and dedication at the opening
At the opening of the new installation showroom, lighting designer Günter Jäckle handed over a work of art by Udo Lindenberg, specially purchased for the showroom, to GLP's Udo Künzler and Key Account Manager, Oliver Schwendke. As a surprise, he also had a drawing by the artist with a special dedication that builds a bridge between the Lindenberg song 'Schwere Zeiten' and GLP.
"Of course, we are particularly pleased about this little encouragement from Udo Lindenberg," said Oliver Schwendke, who played a key role in bringing a Lindenberg original to Karlsbad. "It's been another year of challenges, but 'hard times always come with light'."